See if you can up your level of productivity and overall energy just doing the following: go on a media purge for one week. This means being brutal with the time you spend on the Internet, e-mail, and television. Set very clear boundaries, such as not checking e-mail or doing anything digitally related until after 10 a.m. On the other end of the day, disconnect yourself from electronics at 6 p.m. to spend quality time with the family. Try to avoid reading too many headlines as well.

Author Timothy Ferris writes about going on such a purge in his bestselling book The 4 Hour Workweek, and he proves how enormously transformative it can be to a person's overall ability to get things done (with energy to spare).

So see if you can last for one full week on a media purge and take note of how you feel (better) and what you're able to accomplish (more). This is like giving your body a time-management "reboot" -- you'll emerge out of the purge with a new perspective on what's really important and be able to better prioritize and manage your life.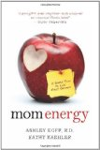 More About this Book
Mom Energy: A Simple Plan to Live Fully Charged
       From celebrated dietitian Ashley Koff and fitness trainer to the stars Kathy Kaehler comes Mom Energy, an exciting new way for moms to tap into their own natural and renewable sources of...
Continue Learning about Healthy Habits