Healthy lifestyle habits play a big role in preventing some of the most common ailments in the U.S. today. In this video, I will explain why feelings are often a better motivator than knowledge for making meaningful changes.
If you want to change health habits, goal-setting involves establishing where you want to go and how you plan to get there. As the saying goes, "Most people don't plan to fail, they fail to plan."

How do you set the right goal? Goals such as "I want to exercise daily," "I want to go on a diet," or "I want to get more sleep," are good ideas, but they are not specific enough. When you think about setting goals, keep two words in mind: "observable" and "measurable." Take a second and think about this. It's difficult to observe "exercise," but you can easily observe specific types of exercise such as walking, running, swimming, or weight lifting. You can't observe diet, but you can observe the specific foods you consume. You can't observe getting more sleep, but you can observe the number of hours of sleep you get each night. By making your goals observable, they automatically become measurable. The basic idea is that if you can see it, you can measure it. Once your goals are measurable you can chart them, keep track of them, and -- bingo! -- you have a road map from your starting point to your end point.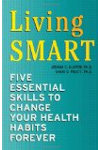 Ask yourself the following questions: What's your bad habit? How often are you indulging? How much time and money do you spend on it each week? What cues set you off? Why are you doing it? To relax? To escape? To sleep? To stay alert? Boredom? Anxiety? Anger? Loneliness?

Log the habit for one to two weeks in a journal, answering all of the questions asked above. Then write down why you shouldn't—and should—make a change. Once you have a better understanding of your habit, distract yourself when the urge arises with a substitute tailored to the underlying issue. For example, call a friend or family member to connect if you're feeling lonely; try a relaxation technique like deep breathing or a body scan if you're anxious; take a walk or do more vigorous exercise like push-ups or jumping rope if you're bored or angry.
Continue Learning about Healthy Habits