What healthy spices should I keep in my pantry?
Here's another reason to season! Since dried herbs and spices come from plants or plant parts, they contain antioxidants and other health-promoting properties that make them a healthy addition to any meal. Here are the dos and don'ts when choosing dried herbs and spices to keep in your pantry:

DO check the Ingredient List before purchasing your dried herbs and spices while at the grocery store. Make sure ingredients listed include the herbs/spices that you want and not salt or sodium additives.

Don't add more salt during cooking process if the dried herbs and spice mix already contains sodium.

Do enjoy the flavors and aromas from a variety of dried herbs and spices such as basil, cilantro, cumin, cinnamon, curry, dill, garlic, ginger, mint, onion, oregano, paprika, parsley, rosemary, thyme, turmeric.

Don't be afraid -- experiment with the different dried herbs and spices when cooking to see which you and your family may enjoy.

Do cut back on sodium but don't cut back on flavor by included dried herbs and spices to your dishes.

Don't use spicy hot spices if you have a gastrointestinal condition that may spark up symptoms if you eat spicy food.
What you keep in your pantry determines how you cook for your family. Dr. Oz reveals what spices he recommends for your pantry in this video.



Healthy Spices in the Pantry
Look at the foods you make most often and keep those needed spices on hand; cinnamon, cloves, seasoned salt, garlic powder, and black pepper are good places to start. Cayenne pepper, paprika, chili powder, cumin, and red pepper flakes are great for chili, Mexican food, and to add punch to Asian dishes. Dried ginger, basil, and turmeric are also good to have on hand. Spices can make a dull dish come to life.
Continue Learning about Healthy Foods & Cooking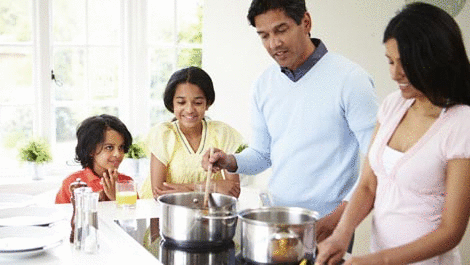 Do you want to cook healthier? With some simple tweaks, you can lighten up regular recipes for brownies, casseroles, and other tasty treats. Plan healthy meals for breakfast, lunch and dinner by learning about healthy food substit...
utions. For instance, you can sprinkle powdered sugar on cakes instead of using frosting. Reduce fat and calories in baked goods by cutting the fat ingredient such as butter or margarine by one-half and substituting a moist ingredient like applesauce, fat-free sour cream or orange juice. Read on to learn more tips about healthy foods and in no time you will be cooking healthy recipes for you and your family.
More