Try the following healthy menu suggestions for a morning meeting or event:
fresh fruit (cut up and offered with low-fat yogurt dip)
high-fiber cereals such as bran flakes, low-fat granola or oatmeal
fruit toppings (raisins, dried fruit mix, fresh strawberries, bananas, blueberries and peaches) for hot and cold cereals
hard-cooked eggs
vegetable omelets
low-fat yogurt
egg dishes made with egg substitute or without yolks
thinly sliced ham
bagels (cut in half) served with fruit spreads, jams, hummus or low-fat cream cheese
Continue Learning about Healthy Foods & Cooking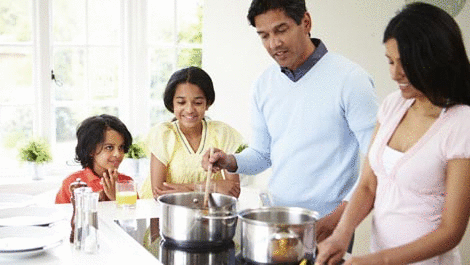 Do you want to cook healthier? With some simple tweaks, you can lighten up regular recipes for brownies, casseroles, and other tasty treats. Plan healthy meals for breakfast, lunch and dinner by learning about healthy food substit...
utions. For instance, you can sprinkle powdered sugar on cakes instead of using frosting. Reduce fat and calories in baked goods by cutting the fat ingredient such as butter or margarine by one-half and substituting a moist ingredient like applesauce, fat-free sour cream or orange juice. Read on to learn more tips about healthy foods and in no time you will be cooking healthy recipes for you and your family.
More