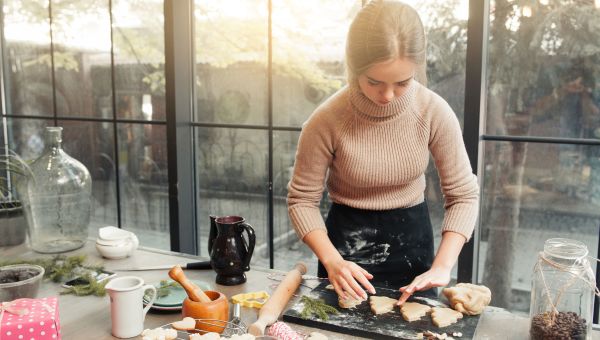 Don't let the holiday season weigh you down. These festive snacks are guilt-free and some even include leftovers.
1 / 8
It often seems like the winter holidays are synonymous with plates piled with high-calorie foods and desserts, along with the tons of leftovers saved for the next day.
Sure, indulging in your favorite bites during a special day might be harmless, but keeping refrigerators loaded with goodies for an entire season could spell trouble for the whole family, especially young bellies. To make sure kids get the proper nutrition they need, we enlisted the help of Roger de la Torre, MD, a bariatric surgeon and obesity medicine specialist with Lee's Summit Medical Center in Lee's Summit, Missouri.
He offers tips to avoid overindulging during the most decadent time of year and alternatives to help sate both sweet and salty cravings, so saying "no" to second helpings and a handful of Grandma's cookies becomes a bit easier. These treats are perfect for small hands, but even grown-ups are sure to enjoy.
Medically reviewed in October 2019. 2 / 8

Strawberry santa hats

Dessert doesn't get more darling than this. Ruby red strawberries contain fewer than 50 calories per cup, are low in fat and loaded with vitamin C, more than a medium orange.

Providing fun ways for kids to eat fruits—and vegetables—can help them stay at a healthy weight, according to the Centers for Disease Control and Prevention. Per US government recommendations, children between the ages of 2 and 18 should consume 1 to 2 cups of fresh fruit a day. Unsweetened died fruits can also fit into your child's diet, and make a wholesome swap for sugary fruit snacks and gummy candies, but be mindful half a cup of the dried stuff is equivalent to a whole cup of fresh fruit.

This treat is a festive way to help kids reach their daily fruit goals, and can be put together in just a few minutes. Whip a quarter cup of nonfat ricotta cheese with half a teaspoon of vanilla extract. Remove the leafy, green tops from a cup of strawberries and slice the pointed tip off each. Add a dollop of your mixture to the larger piece of strawberry and replace the "hat." Add a face to your fruit with two mini dark chocolate chips. Kids can also build the Santa hats themselves. Slice the fruit and let your young ones do the rest!

This dessert contains about 100 calories, and that's more than 300 fewer calories than a standard slice of apple pie. 3 / 8

Break-apart dark chocolate bark

Craving a chocolate dessert? Don't reach for the devil's food cake—which can pack 290 calories per slice—just yet. There are other ways to indulge your cravings. "The holidays can be a difficult time," de la Torre says "There are temptations like leftovers and baked goods, and rather than deny yourself, I think it's a good idea to eat a healthier alternative."

Instead, whip up your own dark chocolate bark, adorned with toppings like shredded and unsweetened coconut flakes, pistachios and unsweetened, dried fruits.

Spread the love by melting 16 ounces of dark chocolate over a double boiler, stirring constantly to prevent burning. Line a baking sheet or other wide, flat dish with parchment paper and spread your melted chocolate into a thin, even layer. Next, get the kids involved! Chop and sprinkle pumpkin seeds, dried goji berries and coconut flakes on top or use a handful of dried blueberries and coconut shreds.

An ounce of chocolate, about one-sixteenth of the tray, has 170 calories. Your festive add-ons will add a few more calories so spread them evenly and don't get too heavy handed. 4 / 8

Star-shaped sandwiches

An ordinary sandwich is no match for thick-cut ham, creamy macaroni and cheese and loaded mashed potatoes. Creating festive treats from simple and wholesome ingredients might help. These sandwiches can we whipped up in minutes, and can help sate a child's pre-party hunger.

Begin by building the sandwich the way you normally would, starting with one whole grain slice of bread and layering in your fillings, like thinly-carved turkey breast—leftovers work great here, too—and a slice of low-fat cheese. If you typically slather mayonnaise on your young one's handheld, spread in a tablespoon of mustard or hummus, instead. Or build a classic PB&J with a tablespoon of all-natural peanut butter and no-sugar-added jam.

Place your second slice of bread on top, and using a star-shaped cookie cutter, punch out the perfect shape. Although it varies based on the size of your cutter, this trick helps make the sandwich snack-sized—plus it gets rid of bread crusts that so many kids hate! A turkey and Swiss star, with a squeeze of Dijon mustard, or a playful PB&J each contain around 210 calories.

In addition to making healthier food choices, encouraging physical activity is another way to help overweight kids shed pounds and fortifies healthy habits for children of any stature, de la Torre suggests. Go for a family bike ride, when weather permits, or cheer your kids on at indoor soccer league games. 5 / 8

Dark chocolate-dipped apple wedges

An apple, one of de la Torre's recommended snacks, contains just 95 calories and are available all year long. They're sweet, thanks to their natural sugars, and sure to please a child's taste buds.

The best snacks for kids are fruits and vegetables, de la Torre says, "but getting children to enjoy eating them can certainly be a problem." When holiday tables are loaded with cookies, brownies and cakes, kids are much less likely to reach for a piece of fruit.

To entice young ones to get their recommended produce servings, slice an apple into wedges about 1 inch thick and dip one (or two) sections into melted dark chocolate. Sprinkle with a touch of unsweetened shredded coconut or chopped nuts or leave them plain. Get your kids involved by letting them dunk the apples and choose the toppings. They will be more excited about eating a snack that they helped create. Half a medium apple with one dunked wedge contains just 90 calories. 6 / 8

Berries and cream

De la Torre suggests that unhealthy treats tend to populate store shelves and our home pantry from Halloween through the New Year. "Halloween would be the first holiday that could start your downfall," he says. "When you get to Thanksgiving and Christmas, there's a whole host of foods, like pumpkin pie, that have a lot of calories."

Between gatherings, serve kids snacks you can feel good about, such as this berries and cream combo. A cup of plump blueberries topped with 2 tablespoons of whipped cream contains 100 guilt-free calories.

If strawberries and blueberries aren't abundant in your area during the winter months, check the freezer section for a flash frozen variety with no added sugar. Often, chilled fruits maintain more nutrients than fresh fruits whose nutrient compounds begin to breakdown as soon as they're picked. Frozen fruit with a dollop of whipped topping make a feel-good substitution for a brimming bowl of ice cream. 7 / 8

Homemade party mix

Salty and crunchy snacks, like pretzels and chips, can be tough for children to resist, especially when other party-goers are enjoying them. Instead of letting young ones go wild in the name of the holidays or restricting their consumption entirely, bring a lighter treat for your youngster and other health-conscious folks to nibble on.

To make a lightened-up party mix, combine 3 cups of rice Chex cereal, a cup of unsalted peanuts, 3 cups of multigrain cereal O's and a packed cup of unsweetened raisins. A half-cup serving, which can be measured into a small bowl or cup for kids, contains 125 calories. The mix is more filling than the same serving of potato chips, and your young ones will be none the wiser.

This recipe is totally customizable, too! Feel free to fold in your favorite nuts, low-sugar cereal or dried fruit. For a real treat, you can also toss in some dark chocolate morsels.

Another tip: If you struggle to pull your offspring away from the buffet table, offer him or her healthy food prior to your holiday meal, " de la Torre suggests. "Don't let yourself get too hungry," he says. "If you fill up with healthier foods to start, you'll eat less of the calorie-dense foods." 8 / 8

Red, white and green sandwich wraps

These old-school sandwich rollups are a perfect pre-gathering snack, and even make a great last minute addition to the holiday spread. Or you can serve them as a post-holiday nibble, since these bite-sized rollups come together in minutes and utilize healthy leftovers, like turkey. The benefits of incorporating leftovers into other recipes are two-fold: You don't waste food, but you also don't eat the same monotonous meals day after day.

Both carbohydrates and fats get a bad rap, but the right kinds and in the proper quantities, can each fit seamlessly into a healthy lifestyle. Dr. de la Torre recommends building snacks with whole foods, rather than reaching for prepackaged stuff. Avoid prepacked foods labeled "low fat," which de la Torre says are often loaded with other additives.

To build this shareable treat, lay down an 8-inch whole wheat tortilla, spread on half of a ripe avocado, layer in 3 ounces of lean turkey breast, half a cup shredded lettuce and half a cup of sliced tomato and sprinkle with salt and pepper. Next roll up your wrap—burrito-style—and cut into 2-inch thick rounds. Half the wrap contains 207 filling calories.
Continue Learning about Healthy Foods & Cooking