When done right, sandwiches are a healthy part of any diet. "Hungry Girl" author Lisa Lillien explains how to make the most nutritious sandwich possible in this video.
The key to make a healthy sandwich is to look at each of the components of a sandwich and make it a healthy option. The outer layer of a sandwich is often a type of bread. Choose whole grain bread whether it is rye bread, 100% whole grain bread, a whole grain tortilla or pita. The next layer is often a spread. If you choose mayonnaise, choose a reduced fat version. Mustard, ketchup or horseradish does not contain any fat, so these are good options. The next layer is the protein food; choose a lower fat meat, or fish or nut butter. Remember to add loads of raw or grilled veggies to your sandwich before taking your first bite.
To many guys, the submarine sandwich is the world's most perfect food. It requires neither a stovetop nor utensils and contains all the major food groups. That's where its virtues end. According to Bonnie Taub-Dix, MA, RD, CDN, author of Read It Before You Eat It, the monster sandwich supplies up to six servings of white bread, plus a quarter-pound (or more!) of cured meats. Researchers have found that eating just one serving of processed meat daily (one to two slices of deli meat) is associated with a 42% higher risk of heart disease and a 19% higher risk of type 2 diabetes.

Turn your sandwich into a real heart hero by using whole-grain bread and roasted turkey or chicken breast.
If you order a sandwich on bread with a doughy inside (including bagels, long steak or hoagie rolls, and plain hard or soft rolls), ask to have the inside scooped out before the filling is added. Scooped bagels are delicious with natural peanut butter and low-sugar jam, or a smear of light cream cheese and egg whites; for other breads, low-fat turkey and veggies, with mustard, is a smart and tasty choice. Sandwiches that come on any bread other than standard sliced bread are typically huge, and definitely more than one serving. If you order a sandwich that looks like it would feed two or more people, eat half and wrap the other half to go.

Panini (hot, pressed sandwiches of Italian origin) tend to be large, too. Usually, half of a restaurant or deli panino would be a portion. Or make your own panini at home, with sliced whole-grain bread.

Stick with healthy filling -- lean deli meat like turkey or grilled chicken and lots of veggies. Opt for low-fat cheese, if possible, or skip it altogether, and go easy on the mayo.

If your sandwich contains so much meat that you can't get your mouth around it, remove half and use it in another sandwich within the next day or so. It's tough to know the fiber content of specialty bread, especially if you order it at a restaurant. If the restaurant offers whole-grain sliced bread, however, opt for it. It may contain some fiber and be closer to an appropriate portion.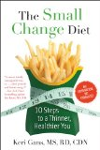 Continue Learning about Healthy Foods & Cooking