New dietary guidelines recommend filling half your plate with fruits and vegetables. If your children are picky eaters, try 'sneaking in' vegetables by blenderizing or baking them into the recipe. Another way to make recipes healthier is to cut out any high-fat ingredients. When at the grocery store, look at the food labels of lean protein options to compare which is the healthier choice. Swap out refined grains for whole grains such as corn, bulgur, quinoa, brown rice or whole wheat pasta. Finally, altering the recipe to cook moderate portions sizes will help prevent from overeating.
Trying new recipes can be fun, but sometimes you may want to rely on established family favorites. Luckily, you can transform your family's favorite recipes into healthy dinner winners, by simply following these three easy steps:
Switch proportions or change ingredients. In many baked goods, you can cut back on sugar by one-third and still enjoy good results. With sautéed foods or with food cooked in a small amount of oil, try using less cooking oil. Also, you can always substitute healthier alternatives for less-healthy ingredients.
Modify food preparation. With a little know-how, you can make simple changes in cooking techniques that require little or no extra time. For example, skim fat that collects on a stew or stock, scrub rather than peel fiber-rich potato skin, skip salt in cooking water, or oven-bake French fries rather than frying them.
Reduce portion sizes. If a recipe is high in calories, fat, or sugar, make portions smaller. For example, reduce the amount of cheese sauce on a baked potato from one-fourth cup to two tablespoons, and add some steamed, chopped vegetables and herbs for flavor. To trick the eye so less looks like more, serve smaller portions on smaller plates.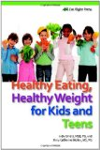 Continue Learning about Healthy Foods & Cooking