The healthiest food options are not processed and require preparation (cooking). Keep food sources simple: lean meats, fresh or frozen vegetables, healthy starches such as dried beans or rice, potatoes, old-fashioned oatmeal, and whole wheat bread options. Low-fat milk, eggs, chicken and turkey without the skin are great sources of protein; leaner cuts of beef are more expensive and may be purchased less frequently. If you are unable to afford fresh vegetables, then frozen will do just fine so long as there are no added salt, sugars, or preservatives to the food. If unable to afford fresh or frozen vegetables, then canned vegetables should be the last alternative. To reduce the sodium content, drain the liquid from the can and rinse the vegetables. Once heated, additional sodium is not required. Healthy starches, such as beans, require preparation methods such as overnight or quick-cook soaking and rinsing before cooking. Seasonings for beans and rice include low sodium bouillons, as well as herbs and spices as opposed to using butters and creams. A crockpot is a time-saver if there is limited time for dinner preparation in the evening.
You can start by checking out the weekly ads and buying healthy items when on sale. Try not to pay full price for anything or use a coupon. Be wary of using coupons for items that are unhealthy and that you might not normally buy. Beans, lentils, and other legumes are healthy and cheap. Look for wheat-based pasta's when on sale. If you have to buy cheaper items such as ground meat that is 30% fat, rinse it after cooking it if you are using it in a casserole. Some supermarkets have a reduced produce section-look for items like potatoes and apples as they tend to hold up well.
As you try to remove the barriers that are keeping you from reaching your health and fitness goals your commitment to eating a nutrient dense diet doesn't have to be limited by budget.

Start with a solid strategy that has you obtaining the maximum amount of nutrients from the amount of food you eat per day. This means eating something along the lines of 200 to 400 calories from fruit & veggies 200 to 300 calories from nuts & seeds 300 to 400 calories from beans & whole grains 200 to 400 calories from meat & eggs and 100 to 300 calories from dairy.

These numbers can be adjusted to fit your individual needs and goals but it's a good place to start. Then it's up to you to become a food investigator and find the resources in your area to get high quality nutrient dense clean food at a good price. Use your conventional grocery stores as needed then look for independent grocers, co-ops, farmers markets and any other hidden gem in your area.

Look for clean minimally processed sustainably farmed food. Use lean less expensive cuts of meat in your slow cooker. Use real whole organic beans and grains in a variety of ways they are very inexpensive. Use good quality butter, cheese and yogurt buy it on sale and keep it around. Nuts and nut butters can be expensive but it's a food group we would really like to include it when possible. When it comes to real vegetables and fruit eat as much as you can afford to every day. It can be done especially if you cut your over all intake.
Eating healthfully doesn't have to cost a fortune. In fact, some of the healthiest foods are inexpensive. Try these tips to keep your heart healthy, your waist trim and your wallet fat.
Shop for produce in season when it's cheapest.
Opt for cheap protein sources. Beans, peanut butter, eggs, canned tuna and sardines are all inexpensive yet incredibly nutritious sources of protein. And you've probably noticed that meat is pricey. Consider cutting back on meat to improve your health and wealth bottom line.
Make extra of freezable meals like pasta, soup or casseroles. It's like making your own frozen entrees without the high price tag or trip to the store.
See what's on sale. You don't have to be an extreme couponer, but using the weekly circulars to shop will save you a lot of money. Check them out online and save time and money at the supermarket. Stock up on grains, frozen veggies, peanut butter and fresh meats that you can freeze and use later.
Select store brands - especially for organics and staples like cereal and rice.
Limit dining out. It's easy to grab a meal on the run but you pay for that convenience. Take your lunch to work and save dining out for special occasions.
Shop the perimeter of the store. Fruits, vegetables, whole grains, low fat dairy and lean meats.

Good choices: Cabbage, reduced price bananas, fresh whole carrots (the kind you peel yourself), mini packs of raisins, red potatoes & Idaho potatoes. Buy apples in the bags (not loose). Look for sales and produce in season. Farmers markets may have good deals on single items of in season produce.

Dried beans are low cost, nutrient rich foods.

Corn tortillas, popcorn in a bulk bag and brown rice are low cost whole grains. Whole Wheat pastas and oatmeal are affordable choices. Muffins made from scratch using 1/2 whole wheat flour are generally easy to prepare and low cost. Freeze extras and partial loaves of whole wheat bread to prevent waste.

Skim milk and eggs per portion are low cost.

When buying meat, freeze into smaller portions. When cooking meats, use a meat slicer to cut thin slices and control portions.

Plan for use of leftovers. Make meatballs using 92% lean ground beef. Have these with whole wheat spaghetti one meal, then meatballs on whole wheat pitas another. Prepare a lean roast (beef with "loin" in the name) in the crock pot with potatoes & carrots 1 meal. Have BBQ Beef on whole wheat pita or beef vegetable soup another.
There are many things you can do to eat healthy and stick to a budget. First of all eat foods that are in season. For example, fresh produce like berries, zucchini, and peaches are in season during the summer and tend to be cheaper. Check the ads for your grocery stores to see what specials they are having on lean meats and fresh produce. Some meats can be expensive but you can still eat healthy inexpensive proteins like beans, eggs, and whole grains to stay healthy and get everything you need. Finally make a list and stick to it! The key to eating healthy is planning ahead, so plan your week's meals out before you go shopping and stick to it!
Living on a tight budget can present a challenge for eating well. Low-cost, easily available foods are often low in nutrients and high in calories. One strategy for coping with this challenge is to buy fewer food items but make each one higher in nutrients. For example, whole-grain breads and pastas are filling and have more nutrients than french fries or potatoes.

Also, use high-cost meats sparingly. Stir-fry small bits of meat with vegetables or cut meat up into casseroles to make it stretch. Consider low-cost protein alternatives, such as beans or tofu.

It also helps to plan meals ahead of time. Preparing food ourselves is often less expensive than ordering takeout and healthier. Keep a list of favorite recipes that are quick and easy to prepare so as to avoid resorting to highly processed fast foods when short of time. Keep basic ingredients on hand that don't go bad, such as pasta, rice, canned light tuna, canned tomatoes, and frozen vegetables.

Use coupons to plan the shopping list and stick to that list when in the store. Buy store brands rather than the heavily advertised, more expensive national brands.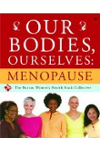 More About this Book
Our Bodies, Ourselves: Menopause
FROM THE EDITORS OF THE CLASSIC "BIBLE OF WOMEN'S HEALTH," A TRUSTWORTHY, UP-TO-DATE GUIDE TO HELP EVERY WOMAN NAVIGATE THE MENOPAUSE TRANSITION For decades, millions of women have relied on Our...
Developing healthy eating habits on a limited budget is absolutely possible! Start by purchasing fresh and local produce from your farmer's market. You will get more nutrients from fresh, whole foods and costs are generally lower than at traditional supermarkets. You will also benefit from a variety of food items due to seasonal changes.

A great way to eat healthy on a limited budget is to prepare your own meals. Packing lunch and snacks for the day can save you a hefty amount of money. You will also benefit from knowing what you are eating, while limiting the amounts of highly processed items you consume.

You do not have to cook every day to eat healthy on a limited budget. Try cooking twice a week and practicing meal assembly on the remaining days. This will allow you to buy in bulk (cheaper) and keep prepared healthy food on hand.

Meal assembly, with foods you prepare, will also allow you to plan your eating schedule. Eating every 3-4 hours is beneficial to your health. This eating frequency is more likely to happen if you have healthy foods prepared and available.

In my book, Eating Free, I explain meal assembly and eating frequency in great detail.

Continue Learning about Healthy Foods & Cooking