When choosing a lemon, one should hold the fruit and determine if it is heavy. The heavier the fruit and the thinner the skin, the more juice it has. A ripe lemon should be firm, with a fine textured peel with a deep yellow color. Acidity varies with the color of the lemon. A deep yellow lemon is less acidic than a lighter or greenish yellow one. Surface marks usually do not affect the fruit inside, but you should try to avoid buying bruised or dried-out fruit, as well as shriveled or hard-skinned lemons.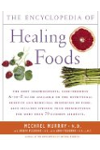 More About this Book
Encyclopedia of Healing Foods
From the bestselling authors of The Encyclopedia of Natural Medicine, the most comprehensive and practical guide available to the nutritional benefits and medicinal properties of virtually everything...
Continue Learning about Healthy Foods & Cooking