Some solutions are absurdly simple. For example, you can top your sandwich with lettuce (or darker, nutritious spinach leaves), tomatoes, and other veggies, and end your lunch with a serving of fruit -- berries, watermelon, kiwi, an apple or banana, whatever you like.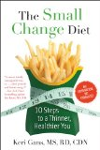 Fruit for lunch can be canned, frozen (thawed), dried or fresh. You can pack a trail mix with nuts and dried cranberries for a serving of fruit that is non-perishable or a whole piece of fruit like apples, oranges, mangos, bananas, pears, berries or melon.

Vegetables can be added to your sandwich or served on the side with a dip like hummus. Sliced cucumbers, radishes, grape tomatoes, or bell pepper strips are delicious and can be prepped the night before. Assorted baby bell peppers are so sweet you will not need to even pack a dip.
Continue Learning about Healthy Foods & Cooking