Here are a few tips for getting enough fruits and vegetables in your daily diet:
Top a bowl of whole-grain cereal with sliced bananas or berries each morning.
Make a healthy fruit smoothie with frozen bananas and berries and a splash of 100% juice.
Keep a fruit basket instead of a candy dish at your desk.
Choose restaurants that offer a healthy salad bar.
Keep your freezer well stocked with frozen vegetable combinations. Cook them up with a healthy protein source for a quick stir-fry lunch or dinner.
Keep bags of pre-washed lettuce greens and sliced vegetables in the refrigerator to make quick salads.
Use dried fruit as a quick snack or as a topping for cereal, salad, or yogurt.
Most Americans don't eat nearly the recommended amounts of fruits and vegetables. Preparation time, unfamiliarity, and old habits are common hurdles. Here are some suggestions to break these barriers and boost your intake:
Set a goal. Start by eating one extra fruit or vegetable a day. When you're used to that, add another and keep going.
Be sneaky. Adding finely grated carrots or zucchini to pasta sauce, meat loaf, chili, or a stew is one way to get an extra serving of vegetables.
Try something new. It's easy to find apples, bananas, grapes, and strawberries. But also try blackberries, blueberries, plums, apricots, kiwi, mango, fresh pineapple, or some of the more fruit choices now found in many grocery stores. Evidence suggests that berries (all types) may pack the most punch for heart benefits.
Blend in. A fruit smoothie is a delicious way to start the day or tide you over until dinner. Blend 2 frozen bananas with ½ cup of frozen berries and ¼ cup of unflavored yogurt.
Be a big dipper. Try dipping vegetables into hummus or another bean spread, or some spiced yogurt. Slather peanut butter on a banana or slices of apple. Dip fresh or dried fruit in melted dark chocolate.
Spread it on. Try mashed avocado as a dip with diced tomatoes and onions, or as a sandwich spread, topped with spinach leaves, tomatoes, and a slice of cheese.
Start off right. Ditch your morning donut for an omelet with onions, peppers, and mushrooms. Top it with some salsa to wake up your palate.
Drink up. Having a 6-ounce glass of low-sodium vegetable juice instead of a soda gives you a full serving of vegetables and spares you 10 teaspoons or more of sugar. You can also make your own vegetable juice with a blender or juicer.
Give them the heat treatment. Roasting vegetables is easy and brings out new flavors. Cut up onions, carrots, zucchini, asparagus, turnips -- whatever you have on hand -- coat with olive oil, add a dash of balsamic vinegar, and roast at 350 degrees until done.
Don't count potatoes as vegetables. Potatoes have some nutritional value, but they are mostly starch -- long chains of sugar. If you like potatoes, reduce the portion size, and don't eat potatoes every day.
Let someone else do the work. If peeling, cutting, and chopping aren't your thing, food companies and grocers offer an ever-expanding selection of prepared produce, from ready-made salads to frozen stir-fry mixes and take-along sliced apples and dip.
Make five swaps a day -- a cookie for an apple, less steak for a salad -- you can easily cut 500 calories a day. Plus, you don't just lose weight, you also reduce your risk of diabetes, heart disease, and cancer. In addition to welcome fiber, vitamins, and minerals, fruits and veggies contain phytonutrients, plant-based compounds that research suggests help protect against many chronic diseases.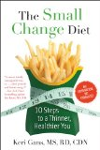 Here are some easy tips for increasing your consumption of vegetables and fruit:
Buy many kinds of fruits and vegetables when you shop, so that you have plenty of choices. Stock up on frozen vegetables so that you can have a vegetable dish with every dinner. You can easily steam frozen vegetables. Use the fruits and vegetables that go bad quickly, such as peaches and asparagus, first. Save hardier varieties, such as apples, acorn squash, or frozen goods for later in the week.
Keep fruits and vegetables where you can see them. The more often you see them, the more likely you are to eat them.
Keep a bowl of cut-up vegetables on the top shelf of the refrigerator. Make up a big tossed salad with several kinds of greens, cherry tomatoes, cut-up carrots, red pepper, broccoli, scallions, and sprouts. Refrigerate it in a large glass bowl with an air-tight lid, so a delicious mixed salad will be ready to enjoy for several days.
Keep a fruit bowl on your kitchen counter, table, or desk at work. Pack a piece of fruit or some cut-up vegetables in your briefcase or backpack and carry moist towelettes for easy cleanup.
Add fruits and vegetables to lunch by having them in soup, in salad, or cut-up raw. Increase portions when you serve vegetables. One easy way of doing this is adding fresh greens, such as Swiss chard, collards, or beet greens, to stir-fries.
Add extra varieties of vegetables when you prepare soups, sauces, and casseroles. For example, add grated carrots and zucchini to spaghetti sauce.
Take advantage of salad bars, which offer ready-to-eat raw vegetables and fruits, and prepared salads made with fruits and vegetables.
Use vegetable-based sauces such as marinara sauce, and juices such as low-sodium V-8 or tomato juice.
Choose fresh fruit for dessert. For a special dessert, try a fruit parfait with low-fat yogurt or sherbet topped with lots of berries. Freeze lots of blueberries. They make a great summer replacement for ice cream, popsicles, and other sugary foods.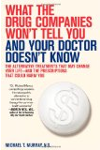 Studies show we need to double our intake nationwide in order to meet the minimum of the recommended five to nine daily servings of fruits and vegetables. In short, you need to add more vegetables and fruits to your diet. Here are my easy suggestions for accomplishing this:
Keep raw and prepared vegetables in the refrigerator for snacks.
Add vegetables to soups, stews, casseroles, pizzas, and sandwiches.
Substitute spinach or another dark green leafy vegetable such as watercress or arugula for iceberg lettuce in a salad.
Eat baked sweet potatoes instead of baked white potatoes.
Eat fruit as a snack.
Drink 100% fruit or vegetable juice instead of cocktails or soda.
Grate a carrot or pepper and add it to spaghetti sauce.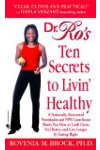 More About this Book
Dr. Ro's Ten Secrets to Livin' Healthy
In this one-of-a-kind book, Dr. Rovenia M. Brock—known as Dr. Ro™ to fans of Black Entertainment Television's Heart & Soul—reveals practical, satisfying ways for African American women to eat...
Here are some simple ways to get more fruits and vegetables in your diet:
Cut up raw fruits and vegetables and portion them into snack bags so they are ready to eat when hunger strikes.
Add frozen chopped spinach, collard greens or turnip greens to a pot of soup, pasta dish or casserole.
Swap your usual sandwich side for crunchy broccoli florets, baby carrots or red pepper strips.
Microwave a sweet potato for a delicious side dish.
Serve a side of baby carrots and cherry tomatoes, or quickly toss a salad made with prewashed lettuce or spinach.
Zap veggies in the microwave for a fast and colorful boost to your meal.
Buy fresh fruits in season, when they taste best and cost less.
Stock up on peaches, pears, and apricots canned in fruit juice or frozen so they're always on hand.
Continue Learning about Healthy Foods & Cooking