Broccoli should be deep sage, dark green, or purplish green depending on the variety. The stalks and stems should be firm. Yellowed or wilted leaves indicate loss of much of the nutritional value. Avoid wilted, soft, and noticeably aged broccoli.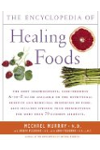 More About this Book
Encyclopedia of Healing Foods
From the bestselling authors of The Encyclopedia of Natural Medicine, the most comprehensive and practical guide available to the nutritional benefits and medicinal properties of virtually everything...
Look for broccoli heads that are tight, firm, and dark green in color. Look at the bottom of the stalks to make sure they are not discolored. If the heads look yellowish that is an indication that the broccoli is no longer fresh. Once selected, store it in a plastic bag in the refrigerator drawer.
Continue Learning about Healthy Foods & Cooking