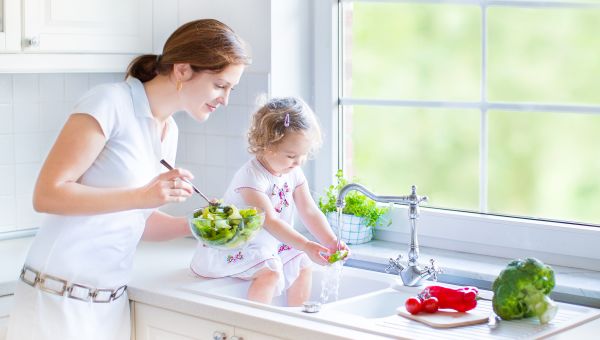 Want to make a simple lifestyle change to help you lose weight? Quit eating out for every meal and start cooking at home! According to the Johns Hopkins Center for a Livable Future, folks who cook and eat at home take in fewer calories, refined carbs and sugar than do non-cooks. So if you want to shed some pounds, avoid diabetes or heart problems and help your kids get a good start to a healthier life, cooking from scratch is an essential first step.
You know what else helps? Food rules. Kids need guidelines about which foods they can and cannot eat. A University of Buffalo study suggests that it teaches them self-regulation and how to eat healthfully. Researchers found four-year olds whose parents don't establish rules ("You cannot have candy before dinner." "We don't eat those. They're bad for you.") drink 25% more soda than kids whose parents do establish food guidelines. Those kids are also at greater risk for obesity. And we're betting their parents are too.
So head to the grocery store for tonight's recipe ingredients! Get the kids involved: Let them choose a veggie and help with preparation. You'll discover how good and good for you real home cooking can be.
Medically reviewed in September 2018.