To answer the question of what humans should eat, many researchers look to other primates, such as chimpanzees, monkeys, and gorillas. These nonhuman wild primates are omnivores. They are also often described as herbivores and opportunistic carnivores in that although they eat mainly fruits and vegetables, they may also eat small animals, lizards, and eggs if given the opportunity. For example, the gorilla and the orangutan eat only 1 percent and 2 percent of animal foods as a percentage of total calories, respectively. The remainder of their diet is derived from plant foods. Since humans are between the weight of the gorilla and orangutan, it has been suggested that humans are designed to eat around 1.5 percent of their diet in the form of animal foods. However, most Americans derive well over 50 percent of their calories from animal foods.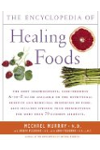 More About this Book
Encyclopedia of Healing Foods
From the bestselling authors of The Encyclopedia of Natural Medicine, the most comprehensive and practical guide available to the nutritional benefits and medicinal properties of virtually everything...
Continue Learning about Healthy Eating Guidelines