Fruits are a good source of carbohydrates and also contain many vitamins, minerals, phytochemicals, and antioxidants. As a general rule, the serving size of fruit is:
1/2 cup cut fruit
3/4 to 1 cup of berries
1 medium-size piece of fruit
2 tablespoons of dried fruit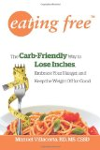 All forms of fruit can count as a serving of fruit on the MyPlate model. A serving counts as 1 cup of raw or cooked or 100% fruit juice or 1/2 cup dried fruit. One cup equivalents of fresh fruit are: 1 small apple, 1 large banana, a small wedge of melon, 1 large peach or a medium pear. Recommendations based on a 2000 calorie diet are to eat 2 cups of fruit/day. An example would be to have a large banana with your whole grain cereal at breakfast and a small sliced apple with your lunch.
Continue Learning about Healthy Eating Guidelines