Assess your foods and meals in terms of how they could be made healthier by additions, subtractions, or substitutions. A few substitutions can make a big difference in your rate of aging. They also make food taste great! Try substituting olive oil for butter or margarine on bread, or prune puree or drained applesauce for one to three tablespoons of butter in recipes; fruit for cookies; real (dark-cocoa based) chocolate for milk chocolate; nuts for chips; and cooked garlic salsa or marinara sauce for a cream sauce. Cocoa based chocolate is a wonderful age-reducing fat -- it is a saturated fat that is miraculously turned into a healthy fat by your body, and also provides age-reducing flavonoids (an antioxidant and antiinflammatory substance found in plants) for your body; milk or trans-fat based chocolate is an aging fat, so choose youth and great taste, cocoa based chocolate. You will have to read the label to find it, but that will allow you to really enjoy its magnificent flavor.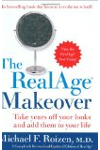 Got a craving for a diet-busting food? Satisfy it by subbing in lower calorie fare. In this video, "Hungry Girl" author Lisa Lillien shares some of her favorite healthy-food swaps -- including her veggie-based answer to pasta.
It's surprisingly easy to find healthier subs for many pantry staples. In this video, registered dietitian Samantha Heller discusses easy food swaps that won't leave a bad taste in your mouth.
There are some key ingredient substitutions you can make to maximize the health factor of your food, while keeping it delicious. Watch nutritionist Rachel Beller discuss the benefits of using almond milk, apple sauce, and ghee (clarified) butter.
Continue Learning about Healthy Eating Guidelines