Dairy foods are great sources of calcium-a nutrient most American consume far too little of. If you eat a diet rich in dairy, I recommend that you choose low-fat or fat-free versions of dairy foods because the extra fat often leads to too much saturated fat (eating more than 20 grams a day ages you).

Saturated fat carries several health risks. To name a few, it causes inflammation in your arteries, increases your chance of immune dysfunctions and cancer, and causes weight gain-which can have a negative effect on your bones and joints.

Changing to lower-fat dairy foods can easier if you do it gradually. For example, if you're drinking whole milk now, skim milk tastes like lake water. So try this trick. Mix 2% milk with whole milk for one week. Gradually change the proportions until each glass is totally made with 2% milk. Do the same thing all the way until you get down to skim milk. Over eight weeks, skim milk will taste normal and whole milk will eventually taste too fat.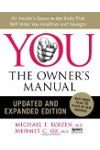 Continue Learning about Healthy Eating Guidelines