Although there is no official RDA for sulfur, it is a critical nutrient. Daily intake is usually 800 to 900 milligrams of sulfur per day. Certain health conditions, such as arthritis and liver disorders, may be improved by increasing the intake of sulfur to 1,500 milligrams per day in supplemental form (most commonly as methylsulfonylmethane, or MSM). Sulfur-rich foods include eggs, legumes, whole grains, garlic, onions, Brussels sprouts, and cabbage.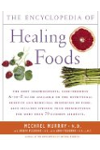 More About this Book
Encyclopedia of Healing Foods
From the bestselling authors of The Encyclopedia of Natural Medicine, the most comprehensive and practical guide available to the nutritional benefits and medicinal properties of virtually everything...