At every meal or snack, try to combine carbohydrates and proteins. Because your food intake works on weekly averages, rather than daily, the ratios at each particular meal or snack time are less important than the mere fact of consuming protein and carbs together. This way, you get the optimal blend of nutritional elements to fight cravings, control hunger, gain energy, and stimulate fullness. Protein increases your metabolism while carbs lower ghrelin (hunger hormone), help with brain function, and decrease cravings. So instead of just reaching for an apple, add a piece of turkey or low-fat cheese.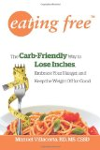 Eat a combination of complex carbohydrates and lean protein at each meal so the rise in your blood sugar is slow and steady. If you eat refined or processed grains, your blood sugar rises and drops so fast that you become hungry in no time at all. But if you eat whole grains, they are absorbed much more slowly, so your feeling of satisfaction lasts longer.

If you combine whole grains with protein, this satisfied feeling lasts even longer. Fat also gives you a very slow rise in blood sugar that lasts even longer, but remember, you probably don't have to go out of your way to find fat since it is already mixed into so many of the food groups.
Continue Learning about Healthy Eating Guidelines