Hazelnuts are a potentially allergenic tree nut. Individuals allergic to other tree nuts, or to birch or alder pollen, have a higher probability of also being allergic to hazelnuts. Symptoms are usually mild and include itching of the mouth and lips, mild gastrointestinal symptoms, swelling of the lips, and difficulty swallowing. Roasting appears to reduce hazelnuts' allergic potential; however, children with asthma who also have food allergies may react to the ingestion of hazelnuts with potentially severe respiratory symptoms. Thus, they should avoid hazelnuts altogether. Hazelnuts also contain large amounts of oxalate. Individuals with a history of oxalate containing kidney stones should avoid over-consuming them.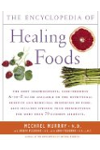 More About this Book
Encyclopedia of Healing Foods
From the bestselling authors of The Encyclopedia of Natural Medicine, the most comprehensive and practical guide available to the nutritional benefits and medicinal properties of virtually everything...
Continue Learning about Healthy Eating Guidelines