Eating healthfully is about balance. Based on my personal and professional experience, it is ideal to give your body a variety of all macronutrients (carboyhydrates, proteins and fats) at each meal. Considering color, texture and flavor is also important.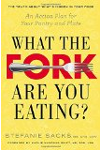 More About this Book
What the Fork Are You Eating?: An Action Plan for Your Pantry and Plate
It's labeled "natural," "grass-fed," or "free-roaming;" yet it might be anything but. It's time to find out what you're actually eating... When your groceries are labeled "low-fat," "sugar-free," and even "natural" and "antibiotic-free," it's easy to assume that you're making healthy choices. Yet even some of those seemingly wholesome offerings contain chemical preservatives, pesticides, and artificial flavors and coloring that negatively affect your health. In What the Fork Are You Eating?, a practical guide written by certified chef and nutritionist Stefanie Sacks, MS, CNS, CDN, we learn exactly what the most offensive ingredients in our food are and how we can remove (or at least minimize) them in our diets. Sacks gives us an aisle-by-aisle rundown of how to shop for healthier items and create simple, nutritious, and delicious meals, including fifty original recipes.  
It may be better to spread your protein intake between three meals daily rather than eating large protein meals at dinnertime. Spreading your protein intake throughout the day may allow for better muscle repair and better utilization of the amino acids that protein provides.
Continue Learning about Healthy Eating Guidelines