Questions like this are so broad and, quite honestly, there is no right answer. As per the Institute of Medicine, women need 25 grams of fiber per day, and men need 38 grams per day. And flax is rich in fiber, with 1/4 cup of ground flaxseeds containing 14 grams of fiber. In the end, it is about how consuming it makes you feel, and please enjoy it in moderation. A great way to integrate flax into your diet is putting it in a smoothie, on top of yogurt or even on a salad.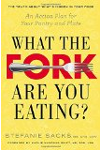 More About this Book
What the Fork Are You Eating?: An Action Plan for Your Pantry and Plate
It's labeled "natural," "grass-fed," or "free-roaming;" yet it might be anything but. It's time to find out what you're actually eating... When your groceries are labeled "low-fat," "sugar-free," and even "natural" and "antibiotic-free," it's easy to assume that you're making healthy choices. Yet even some of those seemingly wholesome offerings contain chemical preservatives, pesticides, and artificial flavors and coloring that negatively affect your health. In What the Fork Are You Eating?, a practical guide written by certified chef and nutritionist Stefanie Sacks, MS, CNS, CDN, we learn exactly what the most offensive ingredients in our food are and how we can remove (or at least minimize) them in our diets. Sacks gives us an aisle-by-aisle rundown of how to shop for healthier items and create simple, nutritious, and delicious meals, including fifty original recipes.  
Flaxseed is a great option for those who do not like fish, or are looking for alternative food choices to lower their risk for heart disease. The key is to make sure you are using ground flaxseed as it is better absorbed than whole. Whole flaxseed will keep fresher longer, so you should grind the flaxseed closer to the time you will be using it. Remember that flax is high in fiber, so you should gradually add it to your diet. The recommendations are to eat 5 grams (1 teaspoon) of flax oil or 8 grams (1 tablespoon) of milled flax daily.
Continue Learning about Healthy Eating Guidelines