Whether at a buffet or sit-down dinner, these tips can help you enjoy festivities and maintain your healthful eating plan:
Eat a small, lower-calorie meal or snack such as fruit or a bagel beforehand so you aren't tempted to overdo your calorie intake for the day.
What's your rush to eat and drink? Socialize, and settle into the festivities before you eat.
Move your socializing away from the buffet or appetizer trays. This will minimize the unconscious nibbling.
When it comes to drinking, start with a nonalcoholic beverage first. Satisfy your thirst before having an alcoholic drink.
Then, alternate alcohol with nonalcoholic drinks during the evening. You will consume less alcohol and give your body a chance to process the alcohol you've already consumed.
Don't drink on an empty stomach. Food helps slow the absorption of alcohol in your body.
To slow your drinking pace, put your drink down. Socialize without the drink in your hand, and you will probably consume slower.
At the table, have a glass of water by your plate too. You'll probably drink less wine or beer if you have water nearby to sip on.
Even low levels of blood alcohol from a single drink can make you more accident-prone for several hours. If you plan to drink, designate a driver who won't be drinking.
On holidays and other times when you know that you will be around a lot of unhealthy foods, fill up your stomach with high-nutrient, low-calorie foods. Never go to a party or event with an empty stomach. Eat a large salad with assorted raw vegetables and a bowl of vegetable soup before going to the places that may tempt your desire to eat unhealthfully. Being healthy is about being in control. You must control your hunger, and the more low-calorie, high-volume foods you consume, the less high-calorie food you will be able to eat.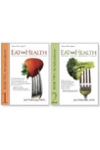 Continue Learning about Healthy Eating Guidelines