To avoid unhealthy food:
Automate your eating by planning your meals ahead of time. That way you're less likely to make an unhealthy last-minute food choice.
Do your grocery shopping with a list and a time limit; that way, you're less likely to stray into the processed foods section.
Navigating the supermarket today can be tricky. Supermarkets now place junk food next to healthy food. They also make it easy to grab what they want you to grab by how they place goods and attract your attention through specials and signs. Here's a classic example: you're in the produce department and next to the organic greens is a line of salad dressings. Next to the heads of broccoli is a sauce that can be used when cooking the veggies. But if you were to make an effort to peruse the aisle dedicated to sauces and dressings, you'll be able to find a much better one than those tossed randomly in the produce department. Avoid the samples handed out unless they are of something you love but don't want to have at home. Don't rely on the person doing the demonstration -- they mean well, but may not point out any downsides to the product ingredients. Read the label yourself.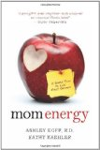 More About this Book
Mom Energy: A Simple Plan to Live Fully Charged
       From celebrated dietitian Ashley Koff and fitness trainer to the stars Kathy Kaehler comes Mom Energy, an exciting new way for moms to tap into their own natural and renewable sources of...
Make a list of the situations that are likely to cause you to backslide from your new health-related behaviors to anticipate possible causes of behavioral drift. This "What If" list will help you target situations that are likely to lead to behavioral drift. The details of this list will be different for each behavior, but the process and general topics are the same. Here are some common examples.
What if the weather is bad and I can't exercise outside?
What if we go out to dinner and they don't have the foods on my diet?
What if we are traveling and I can't get to bed at a reasonable hour?
What if I go to a bar and someone offers me a cigarette?
What if my schedule changes and I can't do my relaxation exercises in the morning before work?
What if my motivation levels decrease?
What if the rewards I am using no longer work?
What if I am sick or injured and unable to exercise, prepare certain meals, or take my scheduled medications?
What if my change partner (those who, like you, are also trying to make lifestyle changes) is no longer available?
What if my supporters (those supporting your attempt to change your lifestyle) are no longer available?
The longer the list is, the better. Leave no stone unturned. If you can anticipate it, you can plan for it -- and if you can plan for it, you will know how to deal with it.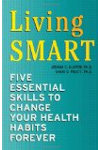 Continue Learning about Healthy Eating Guidelines