If you choose to eat meat, we encourage you to:
Limit your intake to no more than 3 to 4 ounces daily -- about the size of a deck of playing cards. And choose the leanest cuts available, keeping in mind that the USDA allows the meat and dairy industry to label fat content by weight rather than by percentage of calories. A standard 3 to 4 ounce serving size of meat provides a good amount of protein.
Avoid consuming well-done, charbroiled, and fat-laden meats, which are associated with the development of heart disease and cancer.
Don't eat cured meats, such as bacon and hot dogs, especially if you are pregnant or a child under age 12. The chemicals used to cure meats are associated with the development of cancer.
Buy only USDA Certified Organic meat, eggs, and poultry to avoid unnecessary and potentially harmful consumption of agricultural chemicals, hormones, and antibiotics that are concentrated in conventionally raised meat, eggs, and poultry.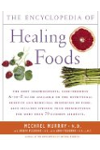 More About this Book
Encyclopedia of Healing Foods
From the bestselling authors of The Encyclopedia of Natural Medicine, the most comprehensive and practical guide available to the nutritional benefits and medicinal properties of virtually everything...
Continue Learning about Healthy Eating Guidelines