Food cravings are "I want it," not "I am hungry." Usually you're feeling happy, glad, mad, sad, lonely, bored or depressed. And usually, you're craving high calorie foods, not fruit or vegetables. The smart way to answer food cravings is to give yourself a break. Since you're not hungry, do something else first, like drink a big glass of water, or practice my 4-7-8-Belly Breath, or pump out a few push ups. And then make yourself sit down and put on a plate what you were craving. See if you can enjoy it more or eat less, either works.
As a fitness trainer I usually advise my clients to have a healthy snack with them at all time. Whether they are in the office, at home, or in the car. Being able to zap the sudden urge to grab a doughnut or some oily potato chips can be a lifesaver. I also ask them if they see any treads with these "sudden" craving, considering that more times then not they do happen around the same time of day. All you have to do is ask your self, and by doing so you can be more prepared to tackle those pesky cravings we all hate!
The secret to facing down a food craving is to first ask yourself a key question, says bariatric medicine specialist Dr. Craig Primack. Find out what that question is, and why time is on your side when you're trying to conquer cravings, by watching this video.
It's such a smart idea to develop strategies for dealing with situations that you consider to be your weak points in maintaining your personal health and wellness.

Here is a meaningful way to cope with the powerful cravings that pop up at random times during our days.

Let's Make a Deal: Let's say that your craving is for chocolate. Allow yourself 10 minutes to write about this craving on a sheet of paper. This mini-journal is for you and only you, so spelling does not count. Please write about anything related to your cravings. If at the end of the thinking and writing exercise you still want that chocolate, you've earned the right to break off a reasonably sized piece of that candy bar. Savor it, enjoy it and know that you were truly hungry and not simply eating mindlessly.

Be kind to yourselves!
At any given moment, you may get a craving for certain foods. You may be stressed, bored, sad or feeling nostalgic. Be prepared to conquer cravings by keeping these on hand:
To conquer a salty craving, try lightly salted nuts, edamame or kale chips with just a sprinkle of salt to taste.
Munch on carrot sticks, jicama or cucumber slices to satisfy a crunchy craving. Cool, crunchy apple slices dipped in peanut butter is a fun and flavorful way to satisfy a crunchy craving and it's quite filling.
When you crave something sweet but can't put a finger on it, reach for a ripe piece of fruit. It works.
Get your chocolate fix with an ounce of high quality dark chocolate. Eat it slowly to truly savor the flavor and the moment.
If you crave ice cream, opt for lower fat versions or frozen yogurt with a fresh fruit topping. Thick and creamy Greek yogurt with sweet seasonal fruit or a drizzle of honey can also satisfy the craving for something cool and creamy.
For a sweet and salty treat, stuff dates with small cubes of parmesan cheese.
For a savory fix, try Indian-spiced roasted chickpeas, popcorn with chipotle chili powder and cumin or go Italian by adding basil, oregano and a sprinkle of parmesan cheese.
Got a craving for pizza? Try fresh mozzarella dipped in marinara sauce.
Cravings are often not associated with true hunger. Before you decide to indulge in a craving, take a break to identify what it is that you are actually experiencing. Are you hungry, sad, bored, upset, angry....? This is the first step in controlling distracted eating and unnecessary calories. Next, think of healthy alternatives to satisfy your craving. When it comes to crunchy foods, try raw, baby carrots, celery sticks, small handful of almonds or other nuts. If you crave something salty, try air-popped popcorn, baked chips, whole grain rice cakes. If you are looking for something sweet, try whole fruit, dried fruit, a few chocolate chips, a cup of fat-free hot cocoa, sugar-free jello, sugar-free pudding, nonfat yogurt. A small, bowl of whole grain oatmeal with cinnamon, a slice of wholegrain toast sprinkled with cinnamon, a bowl of edamame can all be satisfying snacks. Sometimes, trying other alternatives to eventually end up eating what you crave might cause you to have more calories than indulging in the foods that you actually crave in small amounts.
These are some foods to grab when cravings hit:
Dark chocolate: chocolate is one food we all crave and the dark version has a great number of nutrients. It is rich in antioxidants and a healthy fat which is good for your body
Grapes: this fruit has a good content of water that can help you feel satisfied. Reach for 15 grapes when you are craving something sweet
Gum: recent studies indicate that gum can help you curb your food cravings.
Water: sometimes we could confuse hunger with thirst. Before reaching for some food, drink a glass of water.
It's important to listen to your cravings. If you're craving something sweet, eat something sweet -- just opt for a healthier nosh, such as fruit, instead of a high-calorie one such as ice cream. The same goes for crunchy cravings. For example, try air-popped popcorn instead of high-fat chips. If you're really craving something specific like chocolate, have a small amount of high-quality chocolate.

Weight Watchers offers a comprehensive approach to weight loss that can help you reach your goals.
Believe it or not, by having certain snacks on hand you can actually head off a craving, says addiction specialist Dr. Mike Dow. Watch this video to find out what he recommends.
Here's a waist management fact: Bad foods aren't just bad because of the ingredients they contain, but also because many of them are fast and easy, which are the exact traits that can get you into a whole lot of trouble. The key to successful dietary contingency plans is to have pre-made foods ready for you during times when you've been conditioned to reach for bags of sugar-containing waist-killers. Instead, make your favorites of these options once a week so you'll have something to grab when you need it.
Cut-Up Vegetables: Your choice. Cut them, bag them, eat them. Nothing wrong with baby carrots, grape tomatoes and broccoli florets, but if you prefer jicama, sugar snaps and orange pepper strips, go for it.
Sauteed Vegetables: Your choice of vegetables. Sautee them in olive oil with chopped garlic, or red pepper flakes or a good dash of tumeric. Refrigerate and use for side dishes or hot, microwaved snacks.
Soups: Make a filling soup once a week and store them in serving-size cups in the fridge. Eat one cup as a pre-dinner appetizer, to take the edge off -- or have a cup of soup as a snack.
Steel-Cut Oats: If you're worried about time, cook up one week's worth per directions and store in the fridge for up to a week. For some people, that may seem as appetizing as a slice of baked wrapping paper, but it actually tastes good.
Emergency Foods: Every house needs fire-extinguisher foods -- good-for-you-foods that will put out three-alarm starvation fires. Reach for a handful of almonds, peanuts or walnuts, bags of store-bought, pre-chopped fruits and veggies, dried fruit (apricots, cranberries), and edamame (soy beans -- look for microwave bags in the frozen food section). In a real pinch? Pop one of those mint breath strips -- they can help turn off appetite by making food less appetizing.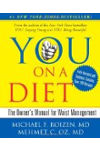 All great answers but in my opinion the best way to deal with cravings is to change your diet as a whole. This can be accomplished many ways but in my opinion the best is below.
Have balance in your diet.
Most cravings come from an elevated blood sugar level and the rapid fall causing the body to send signals that more food is needed. The more balanced the diet is, the slower the digestion, the more regulated insulin levels are, the less the release of insulin.
I try and advise all of my clients to never eat carbs by itself at a meal. I try and encourage all clients (even with snacks) to eat a fat or protein along with the carb. So for instance I believe it can set people up for failure if eating just an apple but combining an apple with cottage cheese, nuts, cheese or some kind of lean meat can slow down digestion and have less of an impact on blood sugar levels causing greater satiety.
Best ways to improve satiety (decrease hunger):
Your largest meal should be breakfast (never skip breakfast)
Eat frequently throughout the day
Never eat carbs by themselves
Try to get a protein, complex carb, plenty of fiber, healthy fats in most of your meals
Eat more veggies
Drink more water
Try and use more complex carbs vs simple sugars
Continue Learning about Healthy Eating Guidelines