To get healthy snacks into your child's day, consider the following fun -- and healthy -- finger foods:
fresh fruit, like apples, berries, pears, grapes, melon balls or cubes, bananas and oranges
low-fat string cheese or other low-fat cheeses cut in cubes or rolled up
nuts, which promote brain health; sunflower seeds or granola; rice cakes or whole-wheat crackers
celery sticks with peanut butter or low-fat cream cheese and raisins on top (ants on a log)
other fresh veggies like carrots, cucumbers, bell peppers, cherry tomatoes and broccoli florets, with low-fat dressing for dipping
Tip: If your child won't eat a whole apple or pear (because of braces or preference), use an apple slicer/corer to quickly cut it into eight slices and toss in a plastic zip-top bag with a squirt of lemon or lime to keep the sections from browning.
Many children aren't eating enough of the nutrients critical to healthy growth and development. To pack more nutrients into your child's eating habits, try these nutrition-packed snacks.
Peel a banana and dip it in low-fat yogurt. Roll in crushed cereal and freeze.
Spread celery sticks with peanut butter or low-fat cream cheese and top with raisins for "ants on a log."
Stuff a whole-grain pita pocket with ricotta cheese and Granny Smith apple slices. Add a dash of cinnamon.
Mix together ready-to-eat cereal, dried fruit and nuts in a sandwich bag for an on-the-go snack.
Smear a scoop of frozen yogurt on two graham crackers and add sliced banana to make a yummy sandwich.
Here are some healthy snacks for kids:
Apples and peanut butter
Quick fruit dip-Mix vanilla yogurt, puree fruit or Mott's Healthy Harvest fruit cups; cut fruit wedges and serve.
Make Pumpkin pudding: Mix 1/4 c canned pumpkin per each 1/2 c diet vanilla pudding; add a sprinkle of pumpkin pie spice.
Make a salsa dip with 1 cup salsa, 1/2 c black beans and 1/2 c low-fat or 2% shredded cheese. Bake some flat taco shells in the oven to serve with the dip.
Make fruit kabobs and dip in vanilla yogurt.
Here is a list of healthy snacks for children:
Nature's candy bowl: make a homemade trail mix with nuts, seeds, dried coconut, dried fruit, chocolate chips, whole grain cereal.
Smooth move: In a blender or magic bullet grab ingredients like frozen fruit, milk or unsweetened milk replacement, honey/agave, cinnamon or cocoa, peanut or almond butter and blend!
Snow it! To make vegetables or eggs a more delicious. Treat -- melt some parmesan over it. (packaged choice: veggie sticks + a string cheese).
Mini-me's: whether it's petite pizzas, or teeny tacos, or mini-meatball kebabs, a great way to make leftovers go the distance is to reform them into a teeny version.
Freezer fun: grab an ice cream or popsicle maker and create treats at home -- chocolate banana almond milk ice cream, coconut water blueberry popsicles.
Children can be such picky eaters and quickly addicted to the fast food craze of chicken nuggets and fries.
Here are some of my grandchildren's favorite snacks:
Frozen grapes
Ice cream sandwiches made with 2 graham cracker squares, a low fat yogurt and a natural peanut butter
Chocolate mouse made with Greek yogurt and cocoa powder
Apple slices with peanut butter
Whole wheat pretzel sticks with hummus
Chocolate chip cookies made with whole wheat pastry flour and dark chocolate chips
Healthy dark chocolate brownies
Celery with low fat cream cheese and raisins
Homemade trail mix with cheerios, air popped popcorn, variety of nuts and seeds, raisins and blueberries and dark chocolate chips
The grandchildren love to bake with me and eat their hard work. Baking healthy brownies and cookies can be fun and educational for them and they freeze well for school lunches.
Snacks that contain a mixture of carbohydrate, protein, and fat (such as peanut butter and celery, or fruit and yogurt) will satisfy hunger for a longer time than a snack with only carbohydrate (such as fruit or pretzels). The mixed-nutrient snacks are therefore a better choice when there's going to be a long interval between meals. On the other hand, if you need to offer a snack shortly before a meal to take the edge off hunger, it's better to provide a snack that is mostly carbohydrates.
Here are some kid-friendly snack ideas that include at least two food groups.
Whole grain cereal and fat-free milk
Fruit smoothie (100 percent fruit juice blended with low-fat or fat free milk or yogurt)
Fat-free plain yogurt and fresh berries
Low-fat peanut butter (no added sugar) on whole wheat crackers
Whole wheat pita and hummus (chickpea dip)
Apple or pear slices topped with low-fat cheese
Oven-baked bagel chips and salsa
Dried cranberry and peanut mix
Whole wheat pita stuffed with lettuce, tomato, cucumber, and low-fat dressing
Raw veggies dipped in fat-free ranch dressing blended with plain, low-fat yogurt
Plain microwave popcorn and 100 percent fruit juice
Quesadilla (whole wheat soft tortilla and low-fat cheese, folded and heated)
Flaked tuna or salmon and chopped celery, with low-fat mayonnaise
Microwave-baked potato topped with salsa and shredded low-fat cheese
One cup of tomato soup (made with low-fat or fat-free milk) and whole grain crackers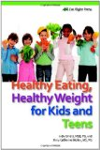 Stock healthy snacks and make them appealing, fun, and easy to grab. Think fresh strawberries, popcorn, crackers and cheese, crisp vegetables, low-fat yogurt, their favorite [MS1] whole-grain cereals, and the like. Open your refrigerator and cabinets, and stare. Brainstorm ways to make the healthier snacks more enticing to little eyes and hands, and easy to reach. Keep sliced fruits and veggies in the front of the refrigerator. Simply don't buy cookies, chips, and other junk food.

From The Smart Parent's Guide: Getting Your Kids Through Checkups, Illnesses, and Accidents by Jennifer Trachtenberg.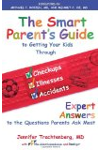 Healthy snack suggestions for children include:
Whole-grain cereals
Cheese
Cheese sticks
Whole-grain crackers
Dried fruits (children younger than 3 should not eat dried fruit because it can be a choking hazard; it also promotes cavities)
Fresh fruits
Fresh vegetables
Hard-boiled eggs
Whole-grain muffins
Peanut butter
Popcorn
Sugar-free pudding
Sherbet
Broth-based soups made with vegetables
Tuna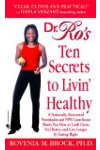 More About this Book
Dr. Ro's Ten Secrets to Livin' Healthy
In this one-of-a-kind book, Dr. Rovenia M. Brock—known as Dr. Ro™ to fans of Black Entertainment Television's Heart & Soul—reveals practical, satisfying ways for African American women to eat...
Continue Learning about Healthy Eating For Children & Teens