Some healthy alternatives to more decadent desserts are bowls of berries, frozen juice pops, yogurt, or whole-grain banana muffins. And have you heard? Although it may seem too good to be true, research has shown that one type of chocolate is rich in the same protective antioxidants found in apples and grapes.

The catch is that it's really only dark chocolate, high in cocoa content, that seems to be of benefit. Not white chocolate. Not milk chocolate. Only rich, dark chocolate. This might taste too bitter to your child's sensitive taste buds, but you could give it a try with some fruit. If she likes it, having small one- to two-ounce portions of dark chocolate a few times a week is another healthy way to satisfy a sweet-tooth. You can even throw it in with her lunch as a treat.

From Good Kids, Bad Habits: The RealAge Guide to Raising Healthy Children by Jennifer Trachtenberg.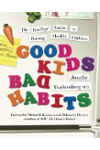 Continue Learning about Healthy Eating For Children & Teens