To help your child or teen make healthy choices, review these Think Before Your Drink tips regarding coffee:
Custom order coffee drinks. Request fat-free milk, no (or less) whipped cream, and sugar-free syrup.
Order the smallest size.
Encourage kids to go online and check out the calorie content for their favorite coffee drink!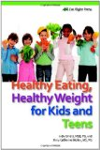 Continue Learning about Healthy Eating For Children & Teens