Research shows starting the day with breakfast improves children's test taking ability, hand-eye coordination and attendance in school. Still, too often kids find excuses for missing "the most important meal of the day."
Pressed for time in the morning? Here are some quick ideas:
Top a bagel with nut butter and sliced apples.
Spread a whole-wheat tortilla with nut butter and sliced banana.
Stuff a wheat pita with a chopped, hard-cooked egg and low-fat shredded cheese.
Boost kids' milk consumption by making oatmeal with low-fat milk; add dried cranberries and nuts.
Breakfast doesn't have to be traditional morning foods either. Have some leftover pizza, a deli sandwich or leftover rice mixed with yogurt, fruit and nuts.
Breakfast doesn't have to be fancy. In fact, there's growing evidence that a bowl of good old-fashioned oatmeal may be one of the key components to a healthy breakfast.

Several recent studies showed that when children ate instant oatmeal for breakfast, as opposed to cold cereal, or no breakfast at all, they had better memory and attention -- skills that come in handy when studying subjects like math and geography. Scientists think this effect can be linked to the whole grain, high fiber, and protein in oatmeal that, because it digests slowly, supplies the brain with a steady stream of energy.

Whether your child's cereal is hot or cold, you'll always want to check the fiber, fat, and sugar content per serving. For example, many kinds of instant oatmeal tend to be heavily processed, leaving it lower in fiber than unprocessed, whole oats.

If your child prefers breakfast bars, be sure to read labels the same way you would cereal labels, noting fat, fiber, and sugar content. Many cereal, granola, and breakfast bars tend to skimp on fiber and instead bulk up on sugar.
It's best if sugar or corn syrup is not among the first three ingredients on breakfast foods.

And ideally, your goal should be to get a total of at least 6 grams of fiber at breakfast; your child's cereal should provide at least 3 grams of fiber per serving.

Hint: If your child's favorite cereal is low on fiber, try sneaking a couple tablespoons of unprocessed wheat bran into it or try mixing in another cereal that's high in fiber with your child's favorites.

From Good Kids, Bad Habits: The RealAge Guide to Raising Healthy Children by Jennifer Trachtenberg.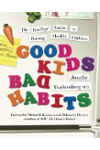 Optimally, children should eat breakfast at home before heading off to school. Fortified cereals that are low in sugar can be a quick and nutritious choice, since they are a good source of iron, folic acid, zinc, and B vitamins. Many of these cereals also contain added vitamin A, thiamin, niacin, calcium, phosphorus, and magnesium. Choosing whole grain cereals contributes to fiber intake and, when paired with fortified milk, provide for a nutrient-dense breakfast.
If children don't have time to eat breakfast at home, and aren't receiving school breakfast, caregivers can also provide quick, nutritious morning meals that can be eaten on the way to school.
Here are three on-the-go breakfast ideas:
Mix some dry, unsweetened, whole-grain cereal with an individual-sized container of low-fat yogurt. Throw in some banana slices, berries, or dried fruit to make it even more nutritious.
Sprinkle reduced-fat cheese on a corn tortilla and melt it in the oven or microwave. Add some salsa and corn and roll it up into a portable tortilla tube.
Spread a thin layer of natural peanut butter or all-fruit preserves on a toasted whole-wheat waffle, and pair it with a travel cup of skim milk.
Here are some suggestions for healthy kid friendly breakfasts:
Whole grain tortilla spread with a nutbutter and a banana and sliced into bite sized pieces;
Toasted whole wheat waffle topped with cottage cheese, fruit and nuts;
Trail mix consisting of whole grain cereal, dried fruit and nuts;
Oatmeal cooked with sliced apples, cinnamon and sugar substitute;
Graham crackers dipped in vanilla yogurt and sliced banana;
Cheese or vegetable pizza served with pineapple chunks (in its own fruit juice).
Continue Learning about Healthy Eating For Children & Teens