Don't ban sweets, but definitely limit them. I would start by making sure you don't use sweets as a reward system. Also, it is important to limit added sugars, such as brown sugar, honey, candy and juices. The more sugars we eat, the more our body craves sugar. It's hard to get away from sweets.
Although totally restricting processed sweets for your child may be the healthiest option, it might not be the smartest one. Studies have found that exerting too much control over your child's diet can have an adverse effect, and kids who aren't allowed any treats may end up overindulging when given the chance. Restricting treats entirely may lead to an aversion to the foods you want them to eat, and an obsession with the foods they should only be having in limited amounts. So, give in once in a while. Allow a couple of cookies after dinner or some chocolate cake to celebrate a birthday. After all, it's not the occasional sugar-filled treat that's detrimental; it's having a steady diet of sweets.
From Good Kids, Bad Habits: The RealAge Guide to Raising Healthy Children by Jennifer Trachtenberg.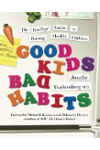 Continue Learning about Healthy Eating For Children & Teens