If your child really likes peanut butter and jelly, try some healthier variations for his or her school lunch. First, start with whole-wheat bread (for white-bread diehards, white whole-wheat sandwich bread is available). Instead of jelly, add fresh fruit like bananas, apples or grapes. You can create a peanut butter and strawberry wrap by topping a tortilla with peanut butter and thinly sliced strawberries, and then rolling it, cutting it in half and sealing securely in plastic wrap for the lunch bag.

Tip: To avoid a soggy PBJ, spread a thin coat of peanut butter on each slice of bread and put the fruit in the middle.
Continue Learning about Healthy Eating For Children & Teens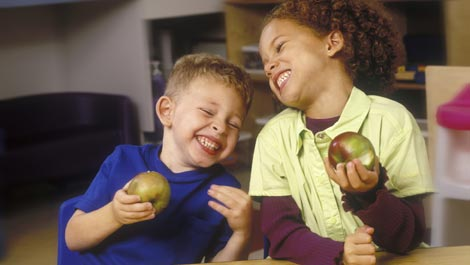 Nutrition is important for healthy child development. Encourage healthy eating by teaching your child or teen correct portion sizes, healthy snacks and the importance of the five food groups. Avoid giving your child food that is h...
igh in calories, saturated fats and added salt and sugar. Find out if your child needs vitamins or supplements. While some weight fluctuation is normal, it could point to an eating disorder ir your child becomes overweight or underweight. Involve your child in preparing healthy recipes for the whole family. Learn more about healthy eating and healthy living for your child with expert advice from Sharecare.
More