To make sure your kids have healthy snacks, put the snacks in places where they can reach. When you say it's okay, your kids can choose their own healthy snack.
Snack attacks are a reality for growing kids. Here are some tips to make sure they're nibbling on fruits and veggies:
Build incredible edibles. Place an assortment of precut veggies and fruits in a stay-fresh container. Using reduced-fat peanut butter and their imagination, let kids build a variety of creations such as smiley faces, butterflies, kites -- whatever looks and sounds tasty.
Take a hike. Kids love trail mix. Combine whole grain cereal, dried cranberries, chopped almonds, and sunflower seeds. Be sure to make a big batch and divide it into single-size portions.
Dip it! Dip sliced jicama strips, carrots, celery sticks, or other crunchy veggies into salsa or hummus (chickpea spread). Hummus also tastes terrific on whole grain pita bread.
Scoop up a yogurt or pudding parfait. Skip the ice cream. Instead, kids can layer fat-free yogurt and fresh berries into a sundae dish. Sugar-free pudding made with fat-free milk also makes a tasty base for this sort of fruit parfait.
Hot potato! Zap a baked potato in the microwave and top it with cooked fresh or frozen broccoli florets and shredded low-fat cheddar cheese.
Nibble on pizza bites. Top mini whole grain bagels with tomato sauce, shredded low-fat mozzarella cheese, and chopped veggies such as bell peppers, mushrooms, and onions. Pop the pizzas into a toaster oven for about 10 minutes -- chow!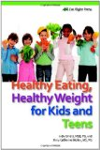 Continue Learning about Healthy Eating For Children & Teens