Be persistent, but don't force it. Serve your child new fruits and vegetables often, and over time, they will become accustomed to the new flavors. It may take anywhere from 8 to 15 tries of a new food before a child will begin to accept it, so be patient!

Try my technique: When a new food is on the dinner plate, I ask my kids to try it; if they don't like what they taste, I don't give them a hard time about it. I prepare it again, about a week later. It gives them another chance to try it, and sometimes, they actually like it. In fact, about 50% of the time, they are surprised to discover that they like it the first time! Not bad odds at all.

When kids are young, try making weekly fruit and vegetable charts together, and have your child color a picture or place a star for each vegetable or fruit eaten. Hang it on the refrigerator or in the kitchen as a visual reminder.

Finally, think about placement. When stores want to move inventory, they put it where customers can't miss it. Use this strategy and always keep fruits and veggies at the front and center of the refrigerator and pantry. That way when kids get the urge to munch, they'll be more likely to reach for a peach or some pea pods and carrots, especially if they are already cut or sliced. If you're pressed for time, buy packaged, ready-to-go fruits and veggies. It might cost more than doing it yourself, but I'll bet it's cheaper than a box of cookies.

From Good Kids, Bad Habits: The RealAge Guide to Raising Healthy Children by Jennifer Trachtenberg.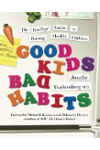 Continue Learning about Healthy Eating For Children & Teens