Parents are the gatekeepers to their children's diets in the early years. If you don't frequent fast food establishments, your children will not know what they are missing. Rather than teaching them how to avoid junk food, teach them how to cook, shop, and enjoy fresh, real food. Children who grow up on the subtler flavors of wholesome food will not crave junk. Be a role model and show them the joys of eating home cooked meals.
Steer clear of "dieting." Erase this word from your vocabulary. Instead, replace it with healthier words like "mindful eating," "nourishing foods," "energy" and "getting healthier." Using positive words will help your family avoid obsessing over calories, fearful of food or being critical of their bodies.

Family Meals: The most important tip, and if you do nothing else, make sure to eat at least one family meal together a day. If this isn't possible, try to eat breakfast together in the morning. Does it need to be a five course, two hour meal? No. Instead it is sitting down, around a table, without the TV or other distractions. This can help teach the lesson that the way you eat is just as important as what you eat. Too often, we are squeezing in meals between activities or eating fast food in the car. Sit, talk, discuss, and savor.

Think Out loud. Verbalize out loud about why you choose certain foods over others. For example, "I'll choose chicken because it is a good source of protein." This will help kids to understand how to make choices when they aren't with you.

Watch Movies. Get your family motivated to improve their eating by showing them a movie such as Supersize Me, Food Inc. and Forks Over Knives. These movies make family members rethink how they eat without feeling lectured.
Encourage your kids to eat fruit by leaving a bowl of their favorite fruit on the table or sliced in the refrigerator. Wash and prepare it so they are more likely to eat it. Also, buy items such as Mott's Healthy Harvest fruit cups and frozen fruit for smoothies. Experiment together with making smoothies, using different juices or almond milk with a variety of fruits. Read the labels and buy healthier options instead of the usual junk food. For example, Fig Newton's instead of Oreos; baked chips instead of regular; hummus with multigrain pita chips, low-fat cheese sticks and low-fat yogurt cups. They are less likely to eat it if it's in the house, so don't buy it. If your kids are younger, offer healthy options now as it's best to start before they develop any bad habits.
Your kids are watching you make nutritional choices, so chances are that if you are reaching for the unhealthy options, they are too. Try stocking your fridge with pre-cut veggies, portable yogurt tubes, string cheese and a variety of fruit- and then help yourself! Making good food choices most of the time shows your child that he has the power to nourish his body without sacrificing the occasional junk food indulgence.
Dr. Donald Shifrin, Professor of Pediatrics at the University of Washington, discusses how to get your child off junk food and into healthy food.

One great way to help kids eat better is to create healthy alternatives to common junk food favorites. This summer you can make batches of these delicious and protein rich veggie burgers that everyone can enjoy.
This recipe is cholesterol free, dairy free, egg free, and gluten-free (unless you add the totally optional bread crumbs -- but really, you don't need them.)
Make some extra patties, freeze them and reheat in a lightly oiled skillet any old time of year for a quick, hearty, healthy meal:
Yield: 6-8 patties
4 tablespooons flaxseeds, ground in a spice grinder
1/3 cup water
2 1/2 cups cooked beans
(any will do: try black beans, pinto, kidney, chickpeas, or a combination)
1/2 teaspoon salt
1/2 teaspoon black pepper
2 tablespoons chopped fresh parsley
1/2 cup diced yellow onion
1/4 cup diced celery
1 tablespoon fresh orange zest
1 garlic clove, minced
1 cup finely chopped spinach
1/2 cup hulled hemp seeds
1/2 cup cooked brown rice, quinioa or millet (leftovers from the day before are great for this)
2 tablespoons olive oil, divided
Combine the ground flaxseeds and water in a small saucepan over medium heat. Stir often until the mixture become gooey. Set aside to cool while you do the next step.
Combine the beans, salt, pepper, parsley, onion, celery, orange zest, garlic, spinach, hemp seeds, brown rice, flax seed mixture and 1 tablespoon of olive oil into a food processor. Pulse 15-18 times to combine the mixture so that it becomes thick and creamed together, with some chunks still remaining.
The mixture should be easy to handle and can be formed into 1-inch thick patties. I used a 1/3 cup measuring cup and flattened each scoop to 1-inch thick. If it feels to dry add a little water. If it feels too moist, add a few tablespoons of cooked grain or bread crumbs and mix to combine.
Heat a heavy skillet (a well-seasoned cast iron skillet is great) over medium heat and warm 1 tablespoon olive oil.
Cook the patties, about 3 at a time, for 7 minutes on each side.
The best way to help your child learn to like healthy snacks instead of junk food is to be a good role model and to set up the home environment for success by keeping healthy foods on hand and junk foods out of the home or at least out of sight.

If you want to eat less of a certain food such as junk food -- avoid buying it at the grocery store. This will limit any temptation or will power struggles on a daily basis at home. If you or your family wants to have some less nutritious snacks from time to time, you can always get it when you are outside the home on occasion. If you keep these foods in the home, try to put them in cabinets and drawers so they are out of sight. If you or your family don't see the food sitting out, it is less likely to trigger a craving.

If you want to eat more of a food such as nutrient-rich foods -- be sure to buy them at the store and make them visible in your home, such as a bowl of fruit on the counter or a healthy snack shelf in the refrigerator.

For more tips on healthy snacks visit www.eatright.org.
Amen Dr. Oz!

I have stated this on several topics but it is up to the parent and not the child. I do not mean it is up to the parent to make their children eat differently, I believe it is up to the parent to first themselves eat differently.

How can you expect your children to manage their anger well when they get older if their example for anger (their parents) is angry all the time. The same holds true for food. How can you expect your children to be healthy and eat well if their parents are not taking care of themselves and exercising.

If you want to have an impact on your childrens lives then you first need to take care of yourself. If you do that and make healthy eating and exercise a part of your families lives then and only then will your children live healthy as well.

Plus wanna know the best part? Eating well and exercising as a family brings you closer together! I think we would all want that!
The good news is that fried-food addiction is not inevitable, because most taste is a learned sense. That's right. If you lay down the groundwork for proper nutrition now, you can teach your kids to want to eat right -- to prefer water over pop, to like real fruits over berry-flavored candy, and to order a side of broccoli rather than a side of fries, even when they don't have you along to steer them in the right direction.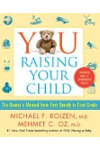 Continue Learning about Healthy Eating For Children & Teens