You can help your child avoid a mid-morning energy crash by limiting donuts, pastries, and sugary toaster treats to special occasions -- their high glycemic indexes mean your child's body will digest them quickly and her energy levels could drop well before lunch as a result.
Try some of these tasty healthy breakfast choices:
Whole-grain toast with peanut butter, whole-fruit spread, avocado, or hummus
A cup of yogurt with 1/2 cup of fruit
Multigrain Os cereal with sunflower seeds, dried cranberries, and almonds or pecans
Raisin bread with low-fat cream cheese
A scrambled egg with corn tortilla pieces (limit eggs to 3-4 per week)
Washing breakfast down with milk is a good choice for all age groups, and while it shouldn't replace fresh fruit, 4-8 ounces of 100% juice per day is fine, too.
From
Good Kids, Bad Habits: The RealAge Guide to Raising Healthy Children
by Jennifer Trachtenberg.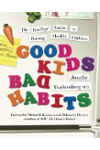 Continue Learning about Healthy Eating For Children & Teens