5 tricky ways to get your child to eat fruit:
Wash it and leave it on the table at eye level.
Cut Fruit cubes and put them on a plate with a little vanilla yogurt in the center. If your kids are older, use toothpicks -- it will make it seem like an appetizer.
Serve unsweetened applesauce, salad or cut up vegetables at supper along with a vegetable that you know your child will eat.
Keep a cooler of Mott's Healthy Harvest fruit cups or other fruit cups(not in heavy syrup) in the car for between school and practice.
Start eating a banana and ask your child if they would like half.
Don't give up if your children refuse to eat fruits and vegetables. Studies show that if children have repeated opportunities to sample new foods then some of them will be accepted. Try offering small amounts at a time. Without a doubt getting children to eat more fruits and vegetables may take some creativity. Look for recipes for your children's favorite food items that allow you to add fruits and vegetables to them. Take the opportunity to add fruits and vegetables in foods your children like to eat, such as cereals, smoothies, muffins, pancakes and yogurt. Top ice cream or frozen yogurt with some berries. Start the day with 4 to 6 oz of 100% fruit juice. Fresh fruit is best, but a small amount of fruit juice can be okay. You can try hiding vegetables in other foods: chop, dice and mix vegetables into casseroles, spaghetti sauces, soups, meatballs, cookies and pizza toppings, for example. Offer cut-up, raw vegetables with salsa or a low-fat dip as a tasty snack. And take your children grocery shopping and have them pick out a type of fruit or vegetable that they would like to try. Over time it just may become habit forming.
Your child will likely eat more fruits and vegetables if they see you eat them. You must model the behavior and enjoy doing it. Ways that you may get your child to eat more fruits and vegetables include blending vegetables and adding them to baked goods, casseroles, meat dishes and in soups and sauces. Fruits can become more attractive if blended to make smoothies, if added to cereal or dipped in yogurt or dressings. The idea is to be creative, patient and have fun.
The best way to do this may be to limit their options. Have snack options limited to fruits and vegetables and low calorie snacks. This way they will get used to choosing them. You can also hide fruits and veggies in their regular food by adding peas to their mac & cheese, for example. Kids also love to eat celery filled with peanut butter. There are also juices that have a combination of fruits and veggies. Let them have fun with their veggies. Edamamme is kid friendly because they love squeezing out the beans and love the way they taste as well. Making fruit skewers is always a fun way to present fresh fruit and the kids love to build them! Remember, that kids learn by example. If they see you eating fruits and veggies instead of chips, they will model after your behavior. By being a good example and allowing them to have fun -- fruits and veggies will be a staple in your house.
Here are a few suggestions for slipping these important foods into your child's diet.
Grate 'em up. Add finely chopped vegetables to soups, stews, meatballs, meatloaf, and spaghetti sauce. They can't pick out what they can't see.
Drop 'em in. Add bananas or dried fruit to cereal or pancakes.
Cover 'em up. Serve vegetables with cheese sauce or yogurt dips. (Bonus: source of calcium).
Uncook 'em. Serve both raw and cooked vegetables. A child might love raw cauliflower but turn his nose up when it's cooked.
Bean 'em up. Legumes count as vegetable servings. Try serving mild-tasting dried peas and beans such as baby lima beans, chickpeas, great northern and navy beans, pinto beans, lentils, and edamame.
Carve 'em up. Make it fun! Create food faces with cut up vegetables; make a colorful swirl with sliced fruit.
Pair 'em. Pair favorite foods with more unfamiliar vegetables and fruits.
From
Good Kids, Bad Habits: The RealAge Guide to Raising Healthy Children
by Jennifer Trachtenberg.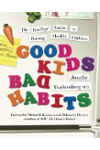 Continue Learning about Healthy Eating For Children & Teens