How do I make sure my child doesn't become overweight?
To make sure your child doesn't become overweight, practice healthy eating habits, and be physically active! Being physically active can help everyone manage their weight. Youth (6-17 years old) need to be active for at least 60 minutes a day, or 12,000 steps. Adults (18 and older) need to be active for at least 30 minutes, or 8,500 steps, a day.
Obesity among children is skyrocketing. In this video, Dr. Oz lists some tips for parents to follow to prevent their children from becoming overweight.




1MinBetterHealth 040 FoodTipsForKids
The best way you can prevent your child from becoming overweight is to model positive behaviors. Children learn best by observing what you are doing. Keep healthy foods in the house and teach them proper portion control. Occasional treats are fine, but they shouldn't be the main part of your diet. Make exercise an important part of your family's life. Let your children see you exercise and plan active outings as a family. Let them choose physical activities and sports that they enjoy. Finally, limit your child's television and computer time so that they are not too sedentary.
Continue Learning about Healthy Eating For Children & Teens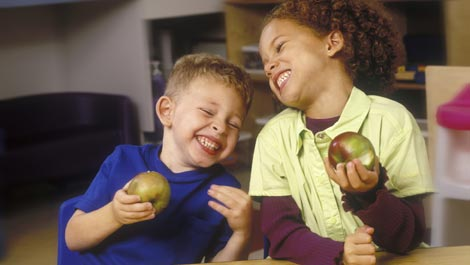 Nutrition is important for healthy child development. Encourage healthy eating by teaching your child or teen correct portion sizes, healthy snacks and the importance of the five food groups. Avoid giving your child food that is h...
igh in calories, saturated fats and added salt and sugar. Find out if your child needs vitamins or supplements. While some weight fluctuation is normal, it could point to an eating disorder ir your child becomes overweight or underweight. Involve your child in preparing healthy recipes for the whole family. Learn more about healthy eating and healthy living for your child with expert advice from Sharecare.
More