Not necessarily. School lunches are getting healthier all the time. It will depend on what your child chooses. Schools are incorporating whole grains into pizza, pretzels, and pastas. They have eliminated trans fats. They are setting up salad bars and serving fresh fruit every day. Many schools are trying to purchase local produce and meats. In some cases school lunches might be healthier than homemade!
School lunches are becoming more nutritious with public school regulations being set into place but preparing a homemade lunch is also a great way to allow you to have more control over what your child is eating.

Try asking your child what he or she wants for lunch. Compromising a smidgen with the majority of the food being healthy can be a great way for a child to enjoy a nutritious lunch.
A lot of parents I talk to would rather give their child a couple of dollars for a cafeteria lunch than prepare a brown-bag lunch for him. The trouble is that school lunchroom offerings tend to sabotage children's eating habits.

Most school cafeterias still serve prepackaged, highly processed foods instead of whole grains, fresh fruits, and vegetables. In addition to the poor choices available, you have no way of knowing if your child is eating cheese puffs and cookies instead of the provided entrée. If junk food is available, kids will buy it. Studies show a direct link between the availability of junk food at school and a higher calorie and fat intake by kids during school hours.

With a little planning, it is possible for your child to get a nutritious cafeteria lunch. Make a weekly date with her to review the school lunch menu together. Discuss what is offered and together decide what's most healthful. It's a great opportunity to work through how to make healthy and tasty choices.

In general, however, providing bagged lunches is the best way to make sure your child is eating healthy foods while at school.

From Good Kids, Bad Habits: The RealAge Guide to Raising Healthy Children by Jennifer Trachtenberg.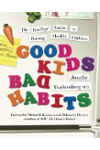 Continue Learning about Healthy Eating For Children & Teens