Some babies LOVE being swaddled. Others HATE it. Experiment with swaddling -- try both arms swaddled, one out, and both out -- some babies like these variations. But don't insist on swaddling if your peanut can't stand it.

Every baby has their own sensory preferences. Some like being rocked. Some are soothed by music. Some want to be held (and swaddled) a lot. Others need quiet, low-stimulation environments. Pay close attention to the sensations that seem to calm your baby, and use what you learn to help baby adjust to this big, complicated world!
You've likely heard all about swaddling - that seemingly mathematical formula for wrapping a blanket around a baby. Some people think swaddling is done for warmth, and some think it's for comfort. But the major reason swaddling is so important is because it helps limit the startling "moro" reflex so babies don't wake themselves up.

You can swaddle your child for much of the day when he's sleeping or resting and loosen up the reins as he stays awake longer and seems curious about moving around, starting at about three months. Swaddling is very effective for cranky babies, since the reason they're fussy is often that they actually want to sleep but can't calm themselves down. Just make sure you do it properly.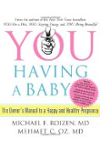 Continue Learning about Healthy Baby