Here are some tips for preventing suffocation:
Make sure infants sleep alone, placed on their backs on a firm surface.
Be sure your crib meets safety standards.
Avoid loose bedding or soft toys in the crib.
The presence of the CDC logo and CDC content on this page should not be construed to imply endorsement by the US Government of any commercial products or services, or to replace the advice of a medical professional. The mark "CDC" is licensed under authority of the PHS.
Continue Learning about Healthy Baby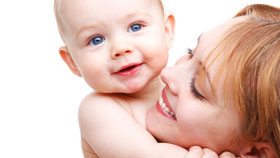 As a parent of a baby, you need information you can trust. From feeding baby to diapering, sleep and napping, bathing, swaddling, immunizations and more, get the facts you need to be the best parent ever.