For exercise lasting an hour or more, eating 30 to 60 grams of carbs, as either food or beverage, is recommended. This is the purpose of all those nutrition bars and gel packs. (Try them out at home before you hit the road or gym with them because they can sometimes cause stomach upset or diarrhea.)

After hard exercise (lasting more than 90 minutes), recovery is optimal if you eat some carbs after exercise. This should consist of 1.5 grams of carbs per kilogram of body weight. An additional carb feeding two hours later will help restore muscle glycogen storage. These recommendations are for aging athletes who train hard and frequently. If you are a recreational athlete and do a race every once in a while, you do not have to worry about recovering with carbs.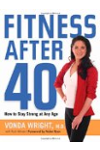 More About this Book
Fitness After 40: How to Stay Strong at Any Age
It's one of the undeniable facts of life. After we reach a certain age, our bodies change. No matter how fit we may have been at 20, we're very different people after 40. But growing older doesn't...
Continue Learning about Healthy Eating For Athletes