It is well known that volunteer work contributes to building better communities, but can it also produce benefits to the volunteer's health? For older adults, a study headed by UCLA geriatrician Catherine Sarkisian, M.D., M.S.P.H., suggests it might. Dr. Sarkisian's group found that among high-functioning seniors, those who participate in volunteer work are significantly less likely to become frail than those who don't, even after taking into account factors such as age, mental function and disability levels.

"Our study doesn't prove that volunteering prevents frailty, but we do know that seniors who volunteer are less likely to become frail," Catherine Sarkisian, M.D., M.S.P.H., says. "For reasons that we're just beginning to understand, there does seem to be a physical benefit to getting outside yourself and helping others." Geriatric frailty -- characterized by slow gait, weak grip, weight loss, low physical activity and low energy -- increases older adults' vulnerability to everything from falls and hospitalizations to the need to be admitted to a nursing home; it also raises
their mortality risk.

Previous research has found that involvement in productive activities that require physical activity can postpone age-associated declines in physical functioning. But Dr. Sarkisian's study suggests something more could be at play -- especially considering that paid work and childcare didn't lower the frailty risk the way volunteering did.

That "something" could have to do with the benefits for volunteers of knowing they are contributing altruistically. "You feel more positive and you're around other positive people, which can be infectious in the same way that depression and psychological stress can be infectious," says Gary Small, M.D., professor of psychiatry at the Jane and Terry Semel Institute for Neuroscience and Human Behavior and director of the Memory and Aging Research Center and the UCLA Center on Aging. "We are social animals by nature, and we respond to cues from each other."
Many research studies have evaluated the health benefits of volunteering in senior citizens. Seniors often develop loneliness, depression, and worsening of physical health as they retire and have friends and close relatives die. Volunteering often helps fill an important gap for seniors. In addition, senior volunteers report better mood and health than those who don't volunteer. Formal volunteer programs can help provide an important new identify and purpose for older adults. This new sense of purpose results in an improved life attitude, as well as the health benefits that go along with increasing social engagement.

Drs. Harris and Thoresen at Stanford University published their findings of a link between volunteering and mortality in the Journal of Health Psychology. They monitored a sample of over 7500 seniors in the United States for 8 years. Compared to people who "never volunteered," people who "volunteered rarely" had a 41 percent decrease in mortality risk. People reporting they "sometimes volunteered" reduced their risk of death by 42 percent, while those "volunteering frequently" reduced their risk by 53 percent.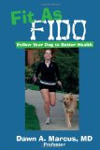 More About this Book
Fit As Fido: Follow Your Dog to Better Health
Let your dog teach you to live a happier, healthier, and more fulfilling life! Companionship with your pet can be used as a means and a motivator to increase your own physical and mental fitness....
Continue Learning about Healthy Aging