Look for breeds that are mild mannered and stay at home dogs (like Border Collies and Shelties). You may want to avoid breeds of hunting or bird dogs whose nature it is to roam, and dogs with aggressive and high risk behaviors.
Also check to see if the senior has any allergy to dogs. Some breeds of dogs are less allergenic than others.
Getting the right dog will help keep the senior, more active, and motivated to exercise. It is known that dogs/pets are good for stress relief, and companionship.
When considering adding a dog to a senior's home:
Make sure the senior wants to have a dog
Be sure the senior can care for a dog - physically, mentally, and financially
Arrange for plans to care for the dog if the senior becomes unable to keep the dog
Avoid toy breeds and stubborn dogs like terriers that may get underfoot and precipitate falls
Consider older dogs that are already trained and less active
Seniors can get benefits from dog companionship by volunteering at animal shelters or having pet therapy visits.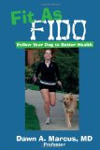 More About this Book
Fit As Fido: Follow Your Dog to Better Health
Let your dog teach you to live a happier, healthier, and more fulfilling life! Companionship with your pet can be used as a means and a motivator to increase your own physical and mental fitness....
Continue Learning about Healthy Aging