Clearing out things -- clothes, objects, equipment we no longer need or use -- gives us a freedom and clarity that are all the more important as we age. Books, especially underlined and highlighted and written-in books, are my challenge, constantly threatening to engulf me. When there are just too many of them piled up on the floor of my office, I take them to the garage and pile them up there instead. Not ideal, but I'm learning; at least they're getting farther away. Pretty soon, maybe I'll even take them off the property.
Letting go, shedding, simplifying -- these are all hard to do in a culture built on addition rather than subtraction. But when we stop holding on to things we'll never use, and stop struggling to be who we are not, we discover newfound energy and strength. It takes courage and conscious decision-making to do this. When we're younger, we define ourselves by our work, by our families, by a dozen external measures. But as we age and outgrow old roles, we can feel adrift, purposeless, and filled with fear -- unless we focus on what's growing rather than what's dying. Since our cells change all the time, shouldn't our mental and emotional states be constantly regenerating, too? Mental stagnation is the fastest way to grow old.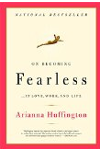 More About this Book
On Becoming Fearless...in Love, Work, and Life
Observing that her own teenage daughters were beginning to experience some of the same fears that had once burdened her--how attractive am I? do people like me? do I dare speak up?--Arianna...
Continue Learning about Healthy Aging