There are some generalities. Libido sags - along with everything else! Body fluids dry up a bit for women and hormones are less compelling. Men will take longer to become erect and will have a longer recovery time. Chronic diseases may have a negative impact on both desire and performance. But if you are with a long-term partner, you are both aging at the same time so you should still be 'in sync' with each other. Talk to each other to accommodate changing needs and desires.
Not only are their visible signs of aging, but comprehensive research has found it is common in men over age 50 to require longer periods of excitement to achieve a full erection. This is not necessarily related to any abnormality. Also, while it may take a little longer to experience full sexual pleasure, it definitely does not lessen the excitement you will feel. Think about it. While you may not run a mile as fast as you did at age 18, perhaps you now find more pleasure in the journey, noticing the trees and flowers along the way. The changes of aging may make it take longer to reach an erection, but this is not impotence. You can still enjoy sexual pleasure no matter what your age. You do not wear out your penis!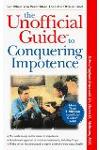 More About this Book
Unofficial Guide to Impotence
The Unofficial Guide to Conquering Impotence delivers the inside scoop on impotence: the truth about Viagra, what treatments really work, and how lifestyle changes can aid in conquering...
Continue Learning about Healthy Aging