Going to school and learning make you younger. People who are better educated tend to stay younger longer. In fact, those who don't have a high school education are 30 percent more likely to die prematurely (before others their age die) than those who do have that level of education. Mortality rates are lower still for those with some college education or higher. Also, a better-educated spouse makes you younger, too.

We're not sure exactly why this is, but many explanations are possible. There is no direct cause-and-effect relationship between what you have studied and your health. For example, mastering calculus doesn't lower your low-density lipoprotein (LDL) cholesterol (bad cholesterol). Failing high school French doesn't put you at greater risk for stroke. Rather, these kinds of statistics result from a whole set of conditions that relate to levels of education and the way education can affect a person's life trajectory. Some of these reasons are purely economic, because individuals with more education are more likely to have better paying jobs and greater financial stability. Correspondingly, they often have higher socioeconomic standing, less exposure to occupational risks, better access to health care, and a whole range of other benefits that help slow the rate of aging.

In contrast, people with lower levels of education are often poorer, have more dangerous and tedious jobs, live in areas where pollution levels are higher, and tend to choose less healthy lifestyle choices. For example, people who don't have a high school education are eight times more likely to smoke and are more likely to be overweight, avoid exercise, and eat unhealthy foods. Educational levels are used by researchers to gauge an entire social world, as opportunities, limitations, and social and health behaviors correlate with education.

The effect of education on our health and youth is enormously complex, and no study will ever completely untangle the web. For one thing, the data are too imprecise. Despite the problems in correlating level of education with health, most of the studies try to adjust for confounding variables such as income, social class, and social stresses. However, even when variables are accounted for, a higher level of education still produces a RealAge (physiologic age) benefit.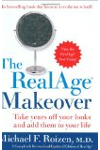 Continue Learning about Healthy Aging