When it comes to calorie restriction, the mechanism that slows aging comes in the form of a protein called sirtuin. Sirtuin seems to change the chemistry in your body to help neutralize aging. In animal models, we see that sirtuin is really a magic molecule, because it allows primates to have an even longer life expectancy than Bewitched reruns.

The way sirtuin works is by influencing the way DNA is made. DNA is encased in proteins called histones, which stabilize the structure of the DNA. But when the sirtuin gene is activated (through the starvation stimulus), the resulting increased activity of sirtuin protein compresses the DNA on the histones—and thus slows the way that the chromosomes are reproduced and reduces errors during the process.

However, not everyone's sirtuin protein-manufacturing gene is activated. Researchers have found that calorie restriction helps activate sirtuin. That is, eating fewer calories acts as the light switch that turns on sirtuin. But there are also other ways to activate sirtuin.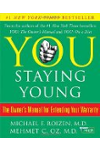 Continue Learning about Healthy Aging