Healthy aging is term used to refer to the quality of life that one lives during ones elder years. For example, someone who is aging healthy is actively engaged in social events, physical active, and eating healthy. Healthy aging can also be a state of mind. If one is constantly thinking "I'm old" then one will feel old.
Healthy aging means using the positive aspects of your age, including expertise gained from life experiences, while you minimize the negative aspects such as heart disease, cancer, diabetes, and other medical problems. In doing this, you may increase your lifespan, as well as the number of years you are active and vital.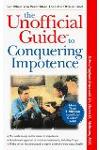 More About this Book
Unofficial Guide to Impotence
The Unofficial Guide to Conquering Impotence delivers the inside scoop on impotence: the truth about Viagra, what treatments really work, and how lifestyle changes can aid in conquering...
Continue Learning about Healthy Aging