We often take on responsibilities that excited and challenged us earlier in our life. As we grew, some of us forgot to "shed these old layers" and move on. Or perhaps we felt trapped because they felt secure and we thought we had too many responsibilities to be able to take the risk of changing. Others continued to get promoted to new situations as long as they continued to be successful at what they did. The promotions only stopped when they were no longer good (competent) at, or interested in, their duties. This can create a problem that has been called the "Peter Principal." It states, "People are promoted to the level of their own incompetence." This principal is so powerful that a very popular comic strip, Dilbert, has been built around it. One of my patients once gave me a wonderful definition of burnout. She said, "Burnout is what occurs when your soul grows too big for the role that you are playing."
In my practice I take a simple approach. I invite my staff to grow into those roles that feel best, knowing that they can change. This results in everybody "following their bliss" and working at a level that is much more effective. Once a staffer outgrows a position, The Universe routinely sends someone else who is happy to take on the role the other person has outgrown. This seems to work much better than the usual Dilbert comic strip! You have the option of choosing how you live your life.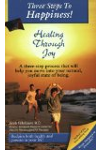 More About this Book
Three Steps to Happiness! Healing Through Joy
Happiness is our natural state of being. It is who we are. This happiness is obvious when you look at little children before they take on society's beliefs. Their natural state is to feel all of...
Continue Learning about Healthy Aging